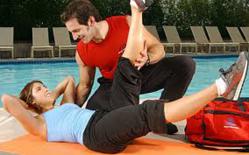 "You must be the change you want to see in the world." - M.K. Gandhi
Chino Hills, CA (PRWEB) May 14, 2012
Personal trainer marketing is the biggest expense for fitness professionals who decide to pursue their own business enterprise. While internet marketing tools have made this arena much cheaper than in the past, all these new channels add up, but not every effort pays off. Beginners tend to make a lot of costly mistakes and hit brick walls when trying to expand or ramp up their incomes.
Fitness Concepts CEO Sam Bakhtiar has spent the last 20 years perfecting and refining his personal trainer marketing techniques. "Like many other trainers, I thought I had it all figured out when I made the move to start my own franchise," he explains. "In retrospect, I made a lot of bone-headed errors and wasted a lot of money in those early years. I wish I had a mentor to steer me in the right direction and give me the systems that I know now. I would have earned my first million dollars probably a decade earlier!"
Sam says that the main focus of his personal trainer marketing mentoring is to figure out what an individual's ideal lifestyle will be. From there, he can help them set goals, simplify daily operations, cut costs, and adopt the industry's proven "best practices." Often, the mentorships begin with a business coaching call and include special events like this past week's "millionaire mastermind" in Las Vegas. What sets Sam apart from other mentors is that he takes a very hands-on approach and holds his protégés accountable for achieving what they set out to accomplish.
"I don't give up on anyone and I don't let my people fall between the cracks," Sam says. "Your success is my success, so why wouldn't I want you to leave my mentorship program 100 percent satisfied with yourself and singing like a canary about how much this opportunity has meant to you?" Sam says that he has received a lot of "defector traffic" from other personal trainer marketing schools, where the program directors gave participants a $1,000 manual of generic suggestions and sent them on their merry way.
Sam Bakhtiar stresses that his personal trainer marketing program is fully customized to the individual and comes with a comprehensive step-by-step guide for replicating his success. "You can expect to cut your expenses by at least $1,000 and triple or even quadruple your income within the first few months," Sam says. "Everyone who works with me receives a copy of 'Six-Figures In 67 Days,' which becomes a great starting ground for the transformation you'll make."
In the "Six-Figures In 67 Days" manual, clients will learn all the essentials of personal trainer marketing, including:

Scripts on what to say to convert new prospects into clients every time
Direction on how to raise rates, without losing clients
Secrets on how to design a killer website that automates leads
Help structuring semi-private sessions that will boost income through the roof
How to systematize the business to take some of the work off your shoulders
Ways to improve your program and add the top training techniques to your offerings
Advice on choosing a business set-up and implementing it from the ground-up.
"To be the best personal trainer you can be, you must invest in your education," Sam Bakhtiar explains. "Even after 20 years in the trenches, I am still reading books, attending seminars, visiting new websites, listening to podcasts, networking with other professionals, and seeking out well-respected sources of information. The successful fitness pros are lifetime students. If you are serious about growing your income this year, invest in yourself to get the biggest returns imaginable."
For more practical personal trainer marketing advice, visit http://www.Super-Trainer.com.
About Sam Bakhtiar
Sam Bakhtiar is a Persian-born American with over twenty years of experience in fitness training and body building. After completing B.S in Premed and Nutrition, Sam also received a degree of doctorate of Chiropractics. Along with being one of the best fitness trainers, Sam is also a business and marketing expert. After establishing a successful fitness training business with substantial income, Sam is helping other professionals in the industry to achieve their business goals. For more information, please contact using the following information.
Contact Information:
Sam Bakhtiar
Fitness Concepts
909-393-9075
http://www.super-trainer.com