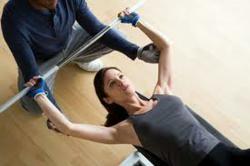 Cause change and lead; accept change and survive; resist change and die. - Ray Norda
Chino Hills, CA (PRWEB) July 02, 2012
Personal trainer marketing is important, but can only take personal trainers so far. At the end of the day, the art of closing is what either secures new clients or loses prospects for good. Fitness Business Expert Sam Bakhtiar – the CEO of California's Fitness Concepts franchise -- has begun to offer monthly "7-Figure Retreats" in Las Vegas to help struggling small business owners improve their closing techniques and boost their boot camp and personal training businesses to six and seven-figure profits.
"One of the hardest facets of the fitness industry is convincing a person to spend his or her hard-earned money on – what many people view as – a 'luxury' like personal training. We all know the value, but the persuasion doesn't always come across in our personal trainer marketing," explains Sam Bakhtiar. "After more than 20 years in the industry, I've created monthly 7-Figure Retreats to share my techniques with ambitious trainers who'd like to get on the path to grossing over $2 million a year."
Here are a few of Sam's personal trainer marketing closing tips for new prospects:

Making different price offers and different challenges will draw in more clients who may have reservations about the class time or the duration of the program.
Offering free e-books and audio programs on a personal training website is a great way to drum up interest, making the up-sell much easier once people have invested time in the business.
It's easier to get clients in through the front door with a low monthly membership rate and offer the ability to buy additional boot camp packages later once the person.
For boot camp packages, the sessions should cost less if a person buys a longer contract or pays in-full.
Another great personal trainer marketing technique is to promote a free one-on-one health and fitness assessment. During this personalized meeting, trainers can develop a fully custom step-by-step meal plan, check a person's BMI / weight / fitness, and give counsel on a person's particular health concerns. Selling the boot camp as an extension of that one-on-one time is a breeze.
Email marketing can be powerful when dealing with past prospects, as long as a trainer has effective Fat Loss Program or Muscle Building Challenge templates on hand.
If clients have trouble arriving at 5:30 a.m. or 6 p.m. due to a crazy work schedule, then it's best to set up an assessment, one-on-one training and/or a DVD program that they can do at their leisure.
Satellite programs are another alternative, where prospects sign up for 3 or 6 months in advance and come in for two sessions a month and receive motivational follow-ups via email and mobile.
"What is most important is to resist the urge to devalue oneself by charging less in a desperate attempt to close a deal," Sam adds. "It's much better to go into group boot camp training than to slash your personal training rates that suck up a lot of your precious time."
For more in-depth personal trainer marketing advice, interested fitness professionals can visit http://www.Super-Trainer.com to sign up for the dynamic "7-Figure Retreat" in Las Vegas, which promises to be a fun weekend of organized activities, great food and drink, and networking with millionaire fitness coaches.
About Sam Bakhtiar
Sam Bakhtiar is a Persian-born American with over twenty years of experience in fitness training and body building. After completing B.S in Premed and Nutrition, Sam also received a degree of doctorate of Chiropractics. Along with being one of the best fitness trainers, Sam is also a business and marketing expert. After establishing a successful fitness training business with substantial income, Sam is helping other professionals in the industry to achieve their business goals. For more information, please contact using the following information.
Contact Information:
Sam Bakhtiar
Fitness Concepts
909-393-9075
http://www.super-trainer.com