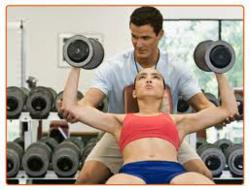 The mind is like a parachute, it doesn't work if it isn't open. - Frank Zappa
Chino Hills, CA (PRWEB) July 04, 2012
Working in a big box gym can feel like the rat race after a while. It's not long before trainers realize their potential earnings if they were to run their own studios or boot camps. Yet, it can seem like a huge, scary leap without a website, startup capital or prior business experience. Millionaire Personal Trainer Marketing Expert Sam Bakhtiar has created a new program that breaks down the steps in a digestible, sensible way – and for the month of July, he is offering it for just $7!
"I'm offering this affordable trial of my coaching services because I've met way too many people who were trapped working 60 hours a week, with no time for their families or leisure. Over twenty years ago, that guy was me!" Sam Bakhtiar explains. "Now I am making over $2.3 million a year, spending more time than ever with my wife and daughter, and living the dream with a nice sports car and second home in Vegas. The surprising truth is that it's actually easy to do once the right systems are in place."
Sam's "Dump The Gym" personal trainer marketing program includes:

The Six-Figure Selling System – How To Close Sales Effortlessly & Charge More Money
The Six-Figure Marketing Report – How To Drum Up Leads & Avoid Time-Wasters
The Super-Trainer System – How To Build A Semi-Private Training Empire & Delegate Business Practices
Personal trainers interested in becoming entrepreneurs will also learn how to:
Pick a specialty
Select a location for training
Find high-paying clients
Better manage time
Design the most valuable sessions
Track personal trainer marketing progress
Project an image of success
Create the schedule and lifestyle one has imagined.
"I was so burnt out, I was ready to quit training and go into construction," says trainer Travis Tsoetzel, who recently completed the program. "I never thought I'd be making multiple six-figures in less than a year, just by reading what Sam had to say and implementing a few of his strategies. This course gave me confidence and showed me that I could live a more fulfilling life by working fewer hours, choosing a specialty I'm passionate about, and working for myself."
Sam Bakhtiar's new program, Dump The Gym, can be accessed for just $7 during the month of July at http://www.Super-Trainer.com under the "Resources" section. In addition to this do-it-yourself training program, Sam Bakhtiar also offers one-on-one business coaching and fun weekend retreats in Las Vegas.
About Sam Bakhtiar
Sam Bakhtiar is a Persian-born American with over twenty years of experience in fitness training and body building. After completing B.S in Premed and Nutrition, Sam also received a degree of doctorate of Chiropractics. Along with being one of the best fitness trainers, Sam is also a business and marketing expert. After establishing a successful fitness training business with substantial income, Sam is helping other professionals in the industry to achieve their business goals. For more information, please contact using the following information.
Contact Information:
Sam Bakhtiar
Fitness Concepts
909-393-9075
http://www.super-trainer.com