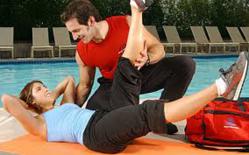 Enjoy the little things, for one day you may look back and realize they were the big things. - Robert Brault
Chino Hills, CA (PRWEB) July 23, 2012
A new personal trainer marketing program offers the industry's best practices, along with an easy-to-replicate, step-by-step guide to starting or growing a fitness business. This product shows entrepreneurs how to build a successful fitness studio or franchise through multiple channels and low-cost revenue streams like: Referral Programs, Joint Venture Marketing, Public Speaking Events and Industry Networking.
"One of the biggest misconceptions is that it takes a huge budget to get a personal training studio off-the-ground," says Program Director Sam Bakhtiar. "What makes my personal trainer marketing program unique is that I start with no-cost marketing solutions that WORK – and have been working for over 20 years."
Sam adds that many so-called "personal trainer marketing gurus" are quick to recommend Facebook Ads, Groupons, magazine spreads or billboard ads that can really bankrupt a business owner who is just starting out. Instead of running in all different directions, Sam Bakhtiar's approach emphasizes focusing on the methods that work and starting out with the basics -- like building a high-quality core product.
"Many personal trainer marketing courses teach you aggressive marketing tactics. This strategy may get a lot of bodies in through the door, but it's a revolving door… so constant time, energy and resources must be expended to keep the business afloat," Sam explains. "My program will show personal trainers how to effectively build a sustainable business through relationship marketing and building the industry's best fitness program that everyone will want to be a part of."
Sam Bakhtiar adds that he got into the mentoring business when he observed just how poor the personal trainer marketing was in this country. Most instructors hold a seminar and leave business owners to their own devices. Sam's program involves one-on-one mentoring, with follow-ups and extensive business coaching by phone. To date, Sam has led 100 protégés to earn their first six and seven-figure salaries.
"Personal trainer marketing is not rocket science," Sam says. "But it does take a lot of weeding through the garbage to find the best strategy that will grow the business exponentially – year after year, without fail. If you follow the organized steps in my program, I can guarantee you'll slash your operating expenses and churn a bigger profit immediately after making the first move."
Personal trainers who own a business – or are looking to start one – can gather more information on the personal trainer marketing program at http://www.Super-Trainer.com. There, they may choose their own level of involvement – from passively reading Sam's blog, to texting "7FIGURES" to 77453 to receive a free business coaching call, to attending one of Sam's dynamic "7-Figure" retreats in Las Vegas.
About Sam Bakhtiar
Sam Bakhtiar is a Persian-born American with over twenty years of experience in fitness training and body building. After completing B.S in Premed and Nutrition, Sam also received a degree of doctorate of Chiropractics. Along with being one of the best fitness trainers, Sam is also a business and marketing expert. After establishing a successful fitness training business with substantial income, Sam is helping other professionals in the industry to achieve their business goals. For more information, please contact using the following information.
Contact Information:
Sam Bakhtiar
Fitness Concepts
909-393-9075
http://www.super-trainer.com