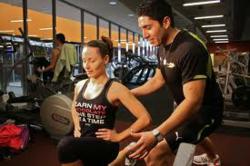 Great minds discuss ideas. Average minds discuss events. Small minds discuss people. - Eleanor Roosevelt
Chino Hills, CA (PRWEB) August 20, 2012
The fitness industry is growing in leaps and bounds, but it's a popular misconception that the best pathway to starting a business is to buy into a franchise. The main benefit of a franchise is that it offers a blueprint for personal trainer marketing and business practices. However, many franchisees are surprised to find the back-end support isn't necessarily there – even after they've shelled out $10,000 or more.
Sam Bakhtiar is the CEO of the Fitness Concepts boot camps in California, a personal trainer, a business coach and the author of the fast-selling "Six-Figures In 67 Days." He says there is a better way to learn the ropes – and he backs up that claim with a brand new coaching program for aspiring fitness business owners.
"You know, I toyed with the idea of joining a franchise at first," Sam recalls, "but the problem was that I'd still be under someone else's direction. I wanted to run the whole show. That's why I got out of a big box gym and interested in the idea of entrepreneurship. The most valuable information I have learned over the past 20 years came from people I've met at networking events."
With a franchise, owners pay a hefty initial sum that reaches into the thousands of dollars. This fee gains them access to corporate information on effective marketing practices, as well as the nuts and bolts of how to run the business. Often, franchisees pay monthly dues for advertising. The benefit is that they can bank off a known name and get an arsenal of information.
However, Sam says he has heard many complaints about the level of service franchisees often receive in exchange for their money. He explains, "At the end of the day, many times the franchisor will say, 'Well, I don't know why it isn't working for you. It's working for everyone else. Read the manual again.' That's no way to run a business, in my opinion. There is a better way."
Sam's newly launched personal trainer marketing program provides aspiring business owners with a step-by-step manual of best fitness business practices. Program participants are also invited to an informal weekend retreat at a Las Vegas mansion that brings together fitness industry masterminds who have amassed a fortune with their training businesses. They are eager to answer questions and share their first-hand knowledge to set business owners on the fast-track for success. After the retreat, Sam follows up with all program participants with one-on-one business coaching calls to make sure all steps are implemented successfully.
"No one falls between the cracks in my program," Sam says. "If you're not making $100,000 or more in your first six months, then that means I'm not doing my job. Few things are more satisfying than seeing someone follow in my footsteps and earn their first million dollars. More importantly, they earn the lifestyle they've imagined. And best of all, they've saved thousands in franchise fees and expenses."
One can visit http://www.Super-Trainer.com for more information on Sam's personal trainer marketing program.
About Sam Bakhtiar
Sam Bakhtiar is a Persian-born American with over twenty years of experience in fitness training and body building. After completing B.S in Premed and Nutrition, Sam also received a degree of doctorate of Chiropractics. Along with being one of the best fitness trainers, Sam is also a business and marketing expert. After establishing a successful fitness training business with substantial income, Sam is helping other professionals in the industry to achieve their business goals. For more information, please contact using the following information.
Contact Information:
Sam Bakhtiar
Fitness Concepts
909-393-9075
http://www.super-trainer.com