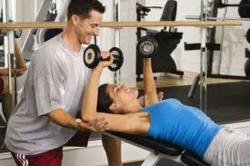 All our dreams can come true – if we have the courage to pursue them. - Walt Disney
Chino Hills, CA (PRWEB) August 22, 2012
One chance encounter with a business mogul could change a life. There would be tremendous value in sitting down with Donald Trump if a person was about to launch a real estate business – or Bill Gates for a fledgling tech startup – or Warren Buffet for an investment firm. These people have figured out how to turn their passions into profits. In the personal trainer marketing industry, that guy is multi-millionaire Sam Bakhtiar.
Sam had a humble beginning, immigrating to America from Persia to pursue higher education. He amassed his fortunes by starting his own boot camp studio in California and continuing to train his favorite clients. Now he is offering his expertise with a new business coaching program offered to aspiring and current fitness business owners.
"Most of the people who come to me are running boot camps or fitness studios that gross $20K - $40K per month, but they feel there is more potential they're not exploiting," Sam explains. "They want to double their income by better focusing their marketing efforts. They may be working too many hours and looking to make life a bit easier. They may be wondering where they can improve their business processes for a leaner, more efficient studio."
Recently, Kaiser Serajuddin, owner of GoHardFitness.com, participated in Sam Bakhtiar's business coaching program. Kaiser describes Sam as "a guy that genuinely wants to see people succeed" and "a rare person who lacks ulterior motives."
"During my weekend hanging with Sam, I learned the importance of having a set schedule and prioritizing what I love to do," Kaiser says. "He convinced me to get rid of time-sucking private clients and focus on high-energy small group training instead. I learned how to set a better schedule for my staff members, focus on long-term life priorities, save more time and avoid distractions. Hiring a bookkeeper and putting in more face time – rather than phone or internet time – has literally saved me thousands of dollars in productivity so far."
The most important take-away from Sam's personal trainer marketing program is gathering a step-by-step action plan to achieve a better work/life balance. This goal is often very difficult to achieve, especially for business owners in the fitness industry, but Sam's life proves it is very possible. Despite running three entirely separate businesses, Sam spends more time with his wife and daughter than ever and frequently takes time off to enjoy his vacation home in Las Vegas. He is eager to show others how to do the same.
More information on his 2012 fall business coaching program can be found at http://www.Super-Trainer.com.
About Sam Bakhtiar
Sam Bakhtiar is a Persian-born American with over twenty years of experience in fitness training and body building. After completing B.S in Premed and Nutrition, Sam also received a degree of doctorate of Chiropractics. Along with being one of the best fitness trainers, Sam is also a business and marketing expert. After establishing a successful fitness training business with substantial income, Sam is helping other professionals in the industry to achieve their business goals. For more information, please contact using the following information.
Contact Information:
Sam Bakhtiar
Fitness Concepts
909-393-9075
http://www.super-trainer.com