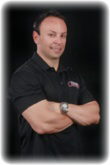 If your actions inspire others to dream more, learn more, do more and become more, you are a leader. ~ John Quincy Adams
Chino Hills,CA (PRWEB) November 18, 2011
The rising awareness regarding obesity and its effects is turning everyone's attention toward the need for a healthier lifestyle. This lifestyle does not only involve healthy food choices but also regular exercise. However, despite the rising awareness, two factors are keeping most people from making the right choice- lack of motivation in people and lack of marketing knowledge among fitness trainers. Super-trainer.com invites fitness trainers around the US to share and learn the secret of personal trainer marketing which can help them achieve their business goals.
The website is the brainchild of Sam Bakhtiar, a veteran fitness expert with sound knowledge and education in business and marketing. Also known among his peers and clients 7Figure Sam, Sam said, "My idea behind the website was to make more people choose a healthy lifestyle by helping fitness trainers expand their business. In this industry, it is very easy to go overboard with all the marketing and stuff. Proper marketing strategies will help them acquire the trust of their prospects rather than make everything seem like boastful bluff."
Sam also added that one of his major concerns is to help fitness trainers earn more while saving more time to spend with their families. Many renowned fitness experts have joined Sam in his endeavors to make the fitness industry flourish. While Sam shares his own knowledgeable advice and proven strategies which helped him establish a successful business, other fitness experts including Pat Rigsby and Leanne Ellington also offer their regular contribution to the website.
The website has become a valuable institution for industry professionals with varying niches including personal training, Yoga, Boot Camping, Kickboxing, Gym and Karate. Appreciating Sam's effort, Kaiser Serajuddin, leading fitness guru and the owner of GoHardFitness.com said, "We call him 7figure Sam because he will help you hit the seven figure target for your income. The website is a wonderful platform for all the experts in the industry to come together and contribute to the success of each other."
Sam's marketing strategies cover all the touch points of the modern marketing media including Mobile Marketing. It offers and excellent way for the trainer to reach prospects with an extremely fast-paced and on the go lifestyle. For more information regarding the effective personal trainer marketing secrets shared on the website, please visit http://www.supertrainer.com
About Sam Bakhtiar
Sam Bakhtiar is a Persian born American with over twenty years of experience in fitness training and body building. After completing B.S in Premed and Nutrition, Sam also received a degree of doctorate of Chiropractics. Along with being one of the best fitness trainers, Sam is also a business and marketing expert. After establishing a successful fitness training business with substantial income, Sam is helping other professionals in the industry to achieve their business goals. For more information, please contact using the following information.
Contact Details:
Phone: 909-393-9075
Website: http://www.Super-Trainer.com
###