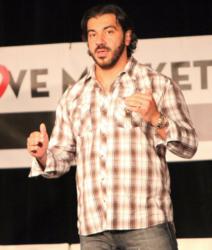 If you want to create a quality info product you'd be a fool not to get Fitness Info Blueprint.
Chino Hills, CA (PRWEB) June 05, 2013
Bedros Keuilian has spent a lot of his career in the personal training industry and has a lot of knowledge on the subjects of personal trainer marketing and info products. Since there is not a lot of information out there combining the two subjects, Keuilian decided to launch Fitness Info Blueprint; a complete guide to creating, marketing, and selling fitness information products.
Available now at FitnessInfoBlueprint.com, Keuilian admits that he created the program to show fitness professionals how they can earn more money without having to invest in marketing team or consulting outside help.
Fitness Info Blueprint benefits personal trainers who have ideas for fitness info products like DVDs or an ebook, but are not sure of how to go about creating, marketing, and ultimately selling their fitness product to the masses. Keuilian's comprehensive fitness info marketing program provides a step-by-step guide on how to launch a successful and profitable fitness info product in 60 days.
Keuilian explains why some fitness info products fail, "See, if a fitness info product can't be found online, then it can't be sold. Simply putting up a website with a shopping cart attached is not gonna make sales." He adds, "Let's face it, unless personal trainers can get affiliates to promote a fitness info product and send them a ton of qualified traffic, they're probably not going to sell much of anything."
The fitness marketing guru says that before he figured out how to go about launching a fitness info product, he wasted a lot of money in dead end marketing, terrible websites, and poor product development.
"Fitness Info Blueprint has proven to be exactly what the title says. Through all of the coaching that Bedros provided, I literally had a checklist of everything I needed to do to get started and have a fitness info product ready to sell," says Mike Inscho of Alpha Male FTS. He explains, "His knowledge of this business and his unmatched passion for helping people is the perfect combination to get you started. If you want to create a quality info product you'd be a fool not to get Fitness Info Blueprint."
For more information on Fitness Info Blueprint, please visit http://www.fitnessinfoblueprint.com.
About PTPower
PTPower.com is the popular online fitness marketing blog created and maintained by Bedros Keuilian. Keuilian is the President, CEO, and Founder of PTPower and the fitness boot camp franchise, Fit Body Boot Camp and is dedicated to helping fitness professionals and personal trainers grow their fitness business and reach their financial goals. To find out more about Fitness Info Blueprint, PTPower.com, or the fitness boot camp franchise, Fit Body Boot Camp, please visit http://www.fitnessinfoblueprint.com, http://ptpower.com/ , or http://www.myfitbodybootcamp.com/