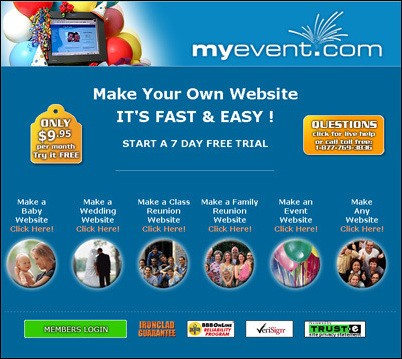 Montreal, QC (PRWEB) April 11, 2007
MyEvent.com is different than most Internet companies. The business does not rely on advertising for revenue, and it has real earnings. This notion would seem counter intuitive to the hordes of start-ups that are following the web 2.0 philosophy of building a community, and hopefully one day being able to monetize their business through advertising. MyEvent.com provides a valuable service to its members for a fee and recently celebrated its 5th anniversary online.
According to company president Rob Hirscheimer, the fact that the company is profitable and does not draw any revenue from advertising is not a coincidence. "Making money from advertising on a community website is almost impossible. The first problem is that it is not easy or cheap to become extremely popular to the point where you have millions of unique visitors a day. Moreover, even the biggest community websites (Myspace, Youtube) that have huge traffic have been unable to make money by displaying ads next to their content. We made the decision from the beginning to offer value to our customers and charge a fee for the service."
MyEvent.com is the leading provider of do-it-yourself event websites on the Internet. The company allows anyone to create a professional website with no technical skills, for events such as class reunions, family reunions, weddings, and any milestone event.
A MyEvent.com website acts as a communications hub where everyone can view details of events, maps, hotel information, and much more. The website tools allow the user to manage guest lists, send broadcast emails, accept registrations, and sell tickets (by credit card) right on their website. There are also fun features such as photo albums, quizzes, polls, a guest book, music, video, and many other great features.
MyEvent.com attracts new customers through search marketing, an affiliate program, and the "Holy Grail", word of mouth. "When customers use our service, 99% of the time they are thrilled! They tell us they could not have had such a successful event without the website they created using MyEvent.com. Happy customers love to tell their friends about a positive experience, no matter what business you're in," Hirscheimer said.
It took three and a half years of development and patience to get to the point where the company's revenues surpassed its overhead. Over the years the company has found ways to add value to the service and add revenue streams at the same time. The company is continually releasing new features to enhance the user experience. Most recently this list has included a family tree builder, a custom form builder, message boards, and many other great features that don't come with the average website.
One of the elements to the company's success has been making the service accessible to everyone. Anyone that can surf the Internet is able to build an incredible website on MyEvent.com. They just fill in forms and click on buttons. 90% of the users have no technical experience, and the other 10% use the service because they could never have so many special features if they tried to build a website on their own. A standard membership on MyEvent.com is $9.95 per month and a premium membership is $14.95 per month. There is a 7-day free trial with no credit card required.
According to Hirscheimer, "we are currently in another bubble where a lot of venture capital is pouring into community websites that hope to make money one day through advertising. The fallacy is that if you build a community website that has a lot of traffic you will eventually become profitable. The truth is that although some community sites manage to get a lot of eyeballs, most of these visitors are not willing to pay to be a member of that community. In addition, these community sites are not delivering meaningful leads to advertisers because people become immune to the ads. A better endeavour for entrepreneurs would be to develop websites that have a valuable service or content that people are willing to pay for. Maybe they'll be calling that Web 3.0."
Media Contact:
Rob Hirscheimer
877-769-3836 ext.222
514-891-1814
###