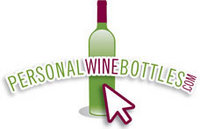 Customers select everything from the design to the varietal and ordering is done by single bottles rather than cases, making it easier and more affordable than ever to give a truly unique gift on PersonalWineBottles.com
Gig Harbor, WA (PRWEB) October 27, 2010
Gift-giving just got a whole lot easier with PersonalWineBottles.com (http://www.PersonalWineBottles.com), a company specializing in the individual production of custom, hand-painted, hand-etched wine bottles. Ordering is done by single bottles rather than cases, making it easier and more affordable than ever to celebrate the wine lover in your life this holiday season.
Customers select everything from the design to the varietal allowing for the ordering of a truly personalized wine bottle in three easy steps:
1) Choose a Design.
Customers select a design category, including "Seasons Greetings," "Happy Chanukah," "Happy New Year," and "Merry Christmas."
2) Customize and choose a wine.
Bottles can be further customized with two lines of text allowing for a personalized message. Customers may also order a stock design without customizing it further. All designs and messages are hand-etched and hand-painted on the bottle. Partner wineries are: L'Ecole N° 41, Flying Fish, Hedges Family Estate, Northwest Totem Cellars, Sequoia Grove and Spanish Sons; and include non-alcoholic varieties from Ariel Vineyards and Fre.
3) Place Order.
Designs and personal messaging is $75, plus the cost of the selected wine, ranging from $7-$37.50. Gift bags can be purchased for an additional $2.50. From order to shipping takes seven days. Delivery and prices are based on personal requirements, and are selected at checkout.
Ordering Information:
PersonalWineBottles.com ships to all U.S. states wherein interstate wine shipping is legal. Bottles are shipped through UPS, and an adult signature is required upon receipt of delivery by anyone 21 years of age and older. The company accepts most major credit cards; checks or money orders are not accepted. According to State Law, taxes must be collected on the entire purchase regardless of ultimate destination. Sales tax is 8.4 percent.
PersonalWineBottles.com is a Washington State-based, privately held company that custom produces single quantity wine bottles by hand—creating a treasured gift friends, co-workers and family won't forget. To order a custom designed bottle of wine, go to http://www.PersonalWineBottles.com. For questions, visit the contact page on the website. Responses will be made as soon as possible during business hours (excluding holidays), Monday-Friday, 8:00 a.m.–4:30 p.m. PST. For weddings, parties, holidays or gifts, PersonalWineBottles.com makes any occasion extra special.
Follow Personal Wine Bottles Online:
Website: http://www.personalwinebottles.com
Twitter: @mywinebottles
Facebook: Personal Wine Bottles
Flickr: http://www.flickr.com/photos/personalwinebottles/
###