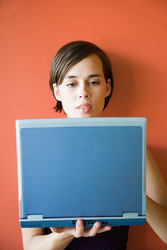 94% of respondents stated that value was the most important factor in making purchases.
Overland Park, KS (PRWEB) September 23, 2010
According to a recent consumer survey conducted by Persuadable Research Corporation, 95% of consumers research products online first. A whopping 86% do so more than once a month. This is done mainly to compare attributes and prices or to find deals. With so many people doing research online, even for brick and mortar purchases, it is important that companies give their online presence the attention it deserves.
Today's consumers also view themselves as value shoppers, 50%. The current economic climate has produced a new breed of value shoppers who are more likely to be driven by needs, and not trends than ever before. Consumers want to get the most for each dollar spent.
The consumer survey focused on four retail segments: Home Electronics, Portable Electronics, Major Appliances and Home Computing Products. In all four categories, over half of respondents expected to actually purchase their next products at retail stores. 87% of Home Appliance buyers expected to purchase offline, most likely due to shipping costs. This was followed by 67% for Home Electronics, 58% for Portable Electronics, and lastly 54% for Home Computing products. However, there is an approximately 10% increment in respondents indicating that their next purchase would be online for Home Electronics, Portable Electronics and Home Computing products.
Are retailers overlooking the value of their websites when it comes to providing information online? According to 37% of respondents surveyed by Persuadable Research, consumer reviews and expert opinions steer them toward investigating products online first. 23% state that the Internet allows them to make smarter or more informed decisions. 18% claim that it's easier to find information online, and 16% say it's just faster. While tens of thousands flock to the Internet for information, the majority are still planning to make purchases offline.
How can retailers use this information? Retailers might be best served by focusing on product value as over 94% of respondents chose value as their most important factor in making a purchase. Price came in a close second with an average of 90% marking it as important. Retailers would do well to provide very detailed information about products online and offline. An average of 81% of people said they were driven by the ability to take the product home right away. Brick and mortar stores might take advantage of this instant gratification factor. Knowledgeable and helpful sales staff was important to 61% of panelists. Perhaps, there is an opportunity, again, to train sales staff carefully on each product's attributes to increase sales.
No one can deny the growing role the Internet is playing in driving offline sales. With the Holiday Season nearly upon us and Black Friday fast approaching, it's important for retailers to speak to today's value and price conscious consumers directly. Retailers must remove barriers to information and meet consumers on their terms. The Internet offers a great opportunity to talk to consumers individually. Treat your online space as prime retail space and equip it with your most powerful marketing tools.
###