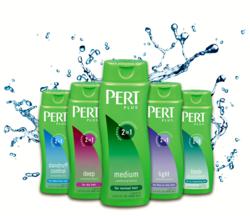 "Our goal is to help men avoid having to cover up their hair with a hat—causing hat head—by delivering a daily grooming product they can depend on to keep their hair smelling fresh and looking great."

-Rick Cutler, Director of Marketing
Danbury, CT (PRWEB) July 13, 2011
Summer heat means hat season is in full swing; unfortunately, for the millions of men who toss a lid over their locks, it also means dealing with the dreaded hair horror known as hat head. While baseball hats are one of the most popular ways to shield heads from super sunny rays, hats of any sort don't do much for keeping hair clean and looking great.
PERT® Plus, the 2-in-1 shampoo and conditioner that gets men "in, out and done," recently polled men across the country to learn what they really think about turning a matted-down mane into a manageable head of great-looking hair. In a survey of more than 250 men nationwide, PERT Plus learned that:

About 37 percent of men would choose Jennifer Aniston to run her fingers through their hair to help cure their hat head. Megan Fox came in a close second, with 28percent of the vote, followed by Kim Kardashian.
Abraham Lincoln was selected as the most famous hat head in history, with Cap'n Crunch taking second place, followed by Napoleon and baseball great Babe Ruth.
Close to 40 percent of men cited girlfriends/wives when asked the one woman in their life they would be most embarrassed to face with hat head.
A sign of the (economic) times, 52 percent of respondents considered a job interview to be the worst situation for sporting hat head, while 38 percent considered a first date to be the worst. Church/temple and meeting a girlfriend's parents for the first time both tied for last place (15 percent.)
Although almost half of the respondents said they experience hat head once a week, they wouldn't give up sporting their favorite hat!
What would men prefer to give up rather than part with their favorite hat? Close to 30 percent of men would rather give up coffee for a week; and 26 percent would give up beer rather than part with their favorite hat.
"Today's men are looking for the single most effective way to get their hair clean and looking great without a fuss—that's what PERT Plus is all about," said Rick Cutler, director of marketing for PERT Plus. "Guys want to focus on what matters most—their families, career and recreational hobbies—versus spending time getting ready every day. Our goal is to help men avoid having to cover up their hair with a hat, causing hat head, by delivering a daily grooming product that they can depend on to keep their hair smelling fresh and looking great."
For more information on PERT Plus, visit http://www.facebook.com/pert2in1.
###