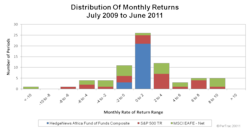 New York, NY (PRWEB) August 17, 2011
Funds of Funds in Africa not only outperformed the broader market during down markets from July 2009 to June 2011, but also had less correlated and volatile returns according to PerTrac, the leading provider of analytics, reporting and communications software for the investment management industry and HedgeNews Africa, the authoritative source of news and information about alternative assets in Africa.
HedgeNews Africa's Fund of Funds Composite Index's resilience to downward swings in the broad markets over the last two years was measured by PerTrac in a monthly rate of return benchmark analysis against the S&P 500 TR and the MSCI EAFE–Net indices for the same period. In down markets over the last two years, the HedgeNews Africa's Fund of Funds Composite Index outperformed the S&P 500 TR by 42.93 percent during those periods where the S&P was down and outperformed the EAFE-Net by 38.55 percent during those periods where the EAFE was down.
The HedgeNews Africa's Fund of Funds Composite Index's monthly rate of return stayed consistently within the -2% to 2% returns range for this time period. For the same period, the S&P 500 TR and the MSCI EAFE–Net both had wider distribution return ranges of up to -10% to 10%. This, coupled with the fact that the Composite experienced more profitable periods during this 2 year period (87.50%) than either of the S&P 500 TR (70.83%) or the MSCI EAFE-Net (54.17%), indicates a different risk profile for the Composite and perhaps one that is less correlated to the movements of the broad market.
PerTrac released its findings following a new agreement to add HedgeNews Africa's database to its analytics platform for investors and fund managers. PerTrac included HedgeNews Africa in recognition of Africa's growing importance in the fund management industry. HedgeNews Africa, based in South Africa and with a global manager network, tracks funds investing on the continent and also maintains the most comprehensive and independent database of hedge funds investing in South Africa and the broader African region. Given the lack of hedge fund tools available in many early-stage African markets, the database also includes long-only African funds targeting international investors.
Investors are increasingly looking to allocate capital to the African continent given its growth potential and rapidly expanding middle class.
"The fact that PerTrac is now carrying data on African hedge funds makes it possible for us to conduct appropriate peer analysis and relative performance reporting of our single strategy funds within a standardized, credible and globally accepted framework," commented Jean-Pierre Matthews, Managing Director of PSG Absolute Investments, a hedge fund manager based in Cape Town, South Africa.
With the addition of HedgeNews Africa's database, PerTrac now aggregates performance results and other information about hedge funds from 11 databases, continuing PerTrac's leadership as the world's most inclusive source of hedge fund data.
"Hedge funds have come of age globally, and PerTrac is looking forward to making information and reporting about the hedge fund industry in Africa available to its worldwide network of investment professionals," said Brendan Dolan, Co-President of PerTrac.
"Our agreement with PerTrac to carry HedgeNews Africa's information and database is a big step forward for the hedge fund industry in Africa," commented Editor Gwyneth Roberts, who founded HedgeNews Africa in 2009. "We are seeing growing demand from investors globally for information on the promising African continent and the talented managers at work in this part of the world."
About PerTrac
PerTrac provides software solutions for investment professionals at the fund-level of investing including pensions, family offices, hedge funds, long-only managers, endowments, sovereign wealth funds, funds of funds and industry service providers. More than 1,400 organizations in 50 countries rely on PerTrac software solutions to help them maximize returns, reduce risk and operate more efficiently. Founded in 1996, PerTrac is headquartered in New York with offices in London, Hong Kong, Tokyo, Reno and Memphis. For additional information on the full suite of PerTrac software solutions, please visit http://www.pertrac.com.
About HedgeNews Africa
HedgeNews Africa is the most timely, accurate and independent source of information covering the South African hedge fund industry and the broader African alternative investment space. The company publishes a monthly online intelligence newsletter and a quarterly print journal, including performance league tables of the most comprehensive database of South African and African hedge funds.
###