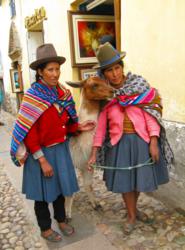 "Our Inca Trail passes are already sold out through August 15th, and for most summer weeks, there are only a handful of options remaining for Galapagos cruises."
Missoula, MT (PRWEB) April 02, 2013
The award-winning tour operator Adventure Life, whose adventure travel options include small group Latin American tours and worldwide expedition cruises, has experienced a surge in advance reservations of Galapagos cruises and Peru tours for the 2013 summer season. Fewer last-minute discount seekers for Galapagos cruises and longer reservation lead times on Inca Trail tours point to a resurgence in the adventure travel industry not seen in recent years. To learn more, visit http://www.adventure-life.com/ or call 800-344-6118.
"Our Inca Trail passes are already sold out through August 15th," said General Manager Jonathan Brunger. "And for most summer weeks, there are only a handful of options remaining for Galapagos cruises."
Adventure Life has more than 30 tours to Peru, ranging from exploring Machu Picchu by train, to culturally-focused culinary tours, to trekking the Inca Trail in multiple different ways. On these tours travelers encounter exotic flora and fauna in the verdant cloudforests, as well as the snow-capped mountains that tower over the Sacred Valley. The Missoula, Montana based company also offers a selection of cruises and hotel-based tours on the Galapagos Islands.
"Those wanting to do a summer vacation to Peru or Galapagos need to get started with their planning now," said Brunger. "I predict within two months' time most of the summer season will be sold-out."
For more information on Peru tours or Galapagos cruises, call 800-344-6118.
About Adventure Life:
Adventure Life is a company of travelers with a passion for sharing the world with others. Our travel experience runs deep, from years volunteering in rural Africa and Central America, to research trips in Asia, studying in Europe, guiding in the Rockies, and just bouncing around every corner of the world. This deep experience is the reason behind our pioneering approach to travel and award winning itineraries. For nearly fifteen years we have been creating personal itineraries that immerse our travelers in the vibrant colors of a place, leaving both our guests and hosts enriched by the experience. From our beginnings as a Latin America specialist, we now offer private journeys, small group tours, and expedition voyages throughout the world. We pride ourselves on our intimate knowledge of our destinations and our dedication to sharing the world.