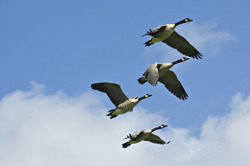 (Vocus) January 21, 2009
On January 15, 2009, a US Airways Airbus A320 went down into the Hudson River possibly due to a collision with Canada Geese. Luckily all of the passengers and crew were able to evacuate safely. Both engines were hit by birds when the plan flew into a flock of Canada Geese. Could this have been avoided? Birds are the scourge of airports all across the country. Most airports try to chase the birds with sound such as cannons and sound deterrents with limited effect. Some also employ the use of falcons to deter birds from flight paths. So just how can airports rid surrounding areas of birds?
There are new products on the market that reduce birds from open areas. These units create a fog or mist which at a 5-micron particle size floats and rises up to 700' to get rid of pest birds. The active ingredient in this fog is Methyl Anthranilate, a food grade repellent. When the repellent fog comes into contact with birds, it affects their mucous membrane and trigeminal nerve. In other words, it irritates them to the point of changing their habits. Birds will alter flight patterns, grazing habits and nesting sites. The exposure is harmless to the birds and people. The extract has been widely used by pest control companies for safely and humanely deterring pest birds and geese for decades. The key to most pest bird problems is using an integrated approach combining physical deterrents, audible harassment and sensory products such as misting systems.
These units are new state-of-the-art systems that are easy to install and program. One of the newest systems on the market is the Bird-B-Gone Mist System by Bird-B-Gone, Inc. Bird-B-Gone, Inc. is the largest manufacturer of pest bird deterrents in North America, with over 100 products to humanly move pest birds. Bird-B-Gone Mist is the only misting system that has an LCD touch screen for programming. From the control unit, you can attach up to 64 misters, controlling each one individually. The system is fully automated. Spray units can be set to go off simultaneously or at alternating times depending on bird activity and wind direction. The control panel will keep track of liquid levels, and will notify you when to refill the units.
For more information on Bird Misting Systems and an Authorized Installer in your area, contact Bird-B-Gone, Inc. at 1-800-392-6915 or visit http://www.birdbgone.com.
###