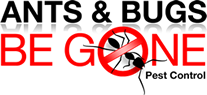 This is the time of year when ants and spiders become invasive
Portland, OR (PRWEB) June 04, 2013
Pest control services in Portland this time of year are in demand as sugar ants begin to become invasive and move in and out of the home on a regular basis.
Ants and Bugs Be Gone owner Chris Nelson says "We are seeing spiders moving around earlier than ever before. This nice weather has made it easier for them to move around and create issues for home owners."
Sugar ants, carpenter ants, spiders, wasps, hornets, fleas, cockroaches, and box elder bugs are the most common frequented pests that Ants and Bugs Be Gone provides exterminator and pest control services for.
Vegetation that is close to a home or residence should be cut back and kept clear after a treatment to provide maximum extermination. Customers that have bamboo in their yard tend to have a higher concentrate of sugar ants than others. The ants will soon find their way up the bamboo and into the house.
Ants and Bugs Be Gone services are without contract. We have expanded our services to Portland Metro and the surrounding areas. Contact us today to stop your pests for good!
Chris Nelson
Ants and Bugs Be Gone
(503) 332-5725
10940 SW Barnes Rd #286
Portland, OR 97225
http://AntsandBugsBeGone.com/