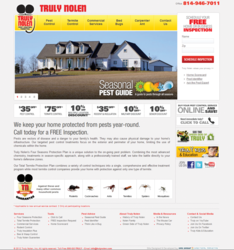 The reason Truly Nolen was attractive to me was that they are a family owned business with family values. Everyone at Truly Nolen is extremely supportive and truly cares about each other."
Mark Wilson - Owner, Truly Nolen State College, PA
State College, PA (PRWEB) April 25, 2012
Truly Nolen, the world's leading family owned pest control company, is pleased to announce the opening of our newest franchise in State College, Pennsylvania and local resident, Mark Wilson, as our new Truly Nolen Franchise owner.
The State College based franchise will serve the State College, Altoona, and Hollidaysburg areas.
Mark was born and raised in the central Pennsylvania region and has been involved in the pest control industry for over 10 years with a heavy emphasis on pest control management. Mark understands the importance of a total pest control strategy and integrated pest management com combining immediate pest treatment and elimination with long term prevention.
Mark has been married to Shelly for 17 years and has 2 children and 2 grandchildren.
For more information about Truly Nolen State College, call (814) 946-7011 or visit http://www.trulynolenstatecollege.com.
Truly Nolen:
Founded in 1938, Arizona-based Truly Nolen of America is one of the largest family-owned pest control companies in the United States. Truly Nolen has more than 68 branch offices in Arizona, California, Florida, Nevada, New Mexico, Texas and Utah. The company also has independently owned and operated franchises in an ever-growing number of territories, including Pennsylvania, Georgia, Delaware California, Florida, Kentucky, New York, New Jersey, Oklahoma, Texas, Massachusetts and Utah, as well as Puerto Rico. For information on domestic franchising opportunities, please visit http://www.trulynolenfranchising.com or call (888)399-2789.