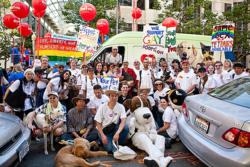 SF SPCA is proud to join in the SF Pride festivities
San Francisco, CA (Vocus/PRWEB) June 21, 2011
The San Francisco Pride Parade is going to the dogs: among all the rainbows and leather, a contingency of pet lovers will be marching with animal companions who have a message for all the proud GLBT people who have room in their hearts and their homes: "Take me home tonight." The San Francisco SPCA, together with Muttville, Animal Care and Control, Family Dog Rescues, and Saving Grace Rescue, are proud to march in the SF Pride Parade on Sunday, June 26th, 2011.
The SF SPCA contingent will be led by their mascots, Ms. Emmy and Big Dog, and is expecting to have 100 to 150 participants, who should be identifiable by their matching SPCA t-shirts and visors. They will be joined by furry friends who know that all people make loving pet parents.
"SF SPCA is proud to join in the SF Pride festivities," says Jennifer Lu, Communications Manager. "Come cheer us on and meet some of our wonderful animals who need loving homes."
Safe sex is as important for cats and dogs as it is for the rest of us, so the San Francisco SPCA will be distributing vouchers for free spay/neuter surgeries at the Spay Neuter Clinic at the Leanne B. Roberts Animal Care Center. Attached to the coupons will be condoms to promote safe sex for all.
The SF Pride Parade starts at 10:30 am on Sunday, June 26th, 2011 at Market and Beale Streets and marches up Market to 8th Street. This year's theme is "In Pride We Trust." For more information about the parade, visit http://sfpride.org/?ifr=parade/.
Those interested in supporting the SF SPCA are urged to donate $10 by texting "SPCA" to 27722. [Charges will appear on the donator's wireless bill or be deducted from his or her prepaid balance. All purchases must be authorized by account holder. Message and Data Rates May Apply. Text STOP to 27722 to STOP. Text HELP to 27722 for HELP. Full Terms: mGive.org/T. Privacy Policy: mgivefoundation.org/privacy.aspx]
For additional information about SF SPCA's participation in SF Pride festivities, or for more information about San Francisco pet adoption and care from SF SPCA, call them at (415) 912-1742, or visit their website at http://www.sfspca.org/.
About the San Francisco SPCA
The San Francisco SPCA is a community-supported, non-profit animal welfare organization dedicated to saving, protecting and providing immediate care for cats and dogs who are homeless, ill or in need of an advocate. The SF SPCA also works long-term to educate the community, reduce the number of unwanted kittens and puppies through spaying and neutering, and improve the quality of life for animals and their human companions.
Support the San Francisco SPCA by adopting, donating, volunteering and becoming a client of the state-of-the-art SF SPCA Veterinary Hospital at the Leanne B. Roberts Animal Care Center. SF SPCA has San Francisco volunteer opportunities to care for shelter dogs and cats, conduct adoption counseling, assist clients and veterinary staff at the Leanne B. Roberts Animal Care Center, provide foster care, help with the Feral Cat Program, and enrich the lives of people in the community through animal-assisted therapy.
# # #