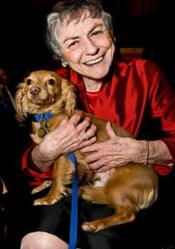 San Francisco, CA (Vocus/PRWEB) June 23, 2011
Every day, millions of dogs and cats perk up their ears at the sound of their owners arriving at the door, and jump up to greet their humans with wagging tails and happy purrs. But what will they do if their owner doesn't appear? The San Francisco SPCA knows the importance of planning in advance to provide for their animal's care in case something should happen, and they will host a seminar, "Estate Planning for You & Your Pet" to teach pet owners how to plan their beloved pet's future. The seminar, which will feature three expert panelists, is on Saturday, June 25th, from 10:30 am to 12 pm at the SF SPCA Training Annex, located at 243 Alabama Street in Potrero Hill.
The first panelist will be Susanna Poon, on "Why Estate Planning is Important - A Case Study." Ms. Poon is an attorney at Hanson Bridgett LLP, specializing in estate planning, probate and trust administration services. Her practice focuses on tax advising, complex transfers of family wealth and charitable planning.
Julie K. Kwon will address the topic "Charitable Lead and Remainder Trusts." Ms. Kwon is a partner with the law firm of McDermott Will & Emery LLP and focuses her practice on advising clients regarding a broad range of estate planning issues, including estate, gift and generation-skipping transfer tax issues; charitable planning and exempt organization compliance; trust and estate administration; contested trust and tax matters; and construction and reformation of wills and trusts.
Veronica Cerruti will explain "Pet Trusts." Ms. Cerruti is an attorney with Manatt, Phelps & Phillips LLP, and focuses on family wealth transfers for large estates, sophisticated estates, gift and generation-skipping transfer tax savings techniques, and complex probate and trust administration.
Space is limited; attendees must RSVP by June 24th by calling Jamie Holt at (415) 522-3548 or emailing
[email protected] Registration begins at 10 am. Pastries and coffee will be served.
Those interested in supporting the SF SPCA are urged to donate $10 by texting "SPCA" to 27722. [Charges will appear on the donator's wireless bill or be deducted from his or her prepaid balance. All purchases must be authorized by account holder. Message and Data Rates May Apply. Text STOP to 27722 to STOP. Text HELP to 27722 for HELP. Full Terms: mGive.org/T. Privacy Policy: mgivefoundation.org/privacy.aspx]
For information about San Francisco pet adoption and care from SF SPCA, call them at (415) 912-1742, or visit their website at http://www.sfspca.org/.
About the San Francisco SPCA
The San Francisco SPCA is a community-supported, non-profit animal welfare organization dedicated to saving, protecting and providing immediate care for cats and dogs who are homeless, ill or in need of an advocate. The SF SPCA also works long-term to educate the community, reduce the number of unwanted kittens and puppies through spaying and neutering, and improve the quality of life for animals and their human companions.
Support the San Francisco SPCA by adopting, donating, volunteering and becoming a client of the state-of-the-art SF SPCA Veterinary Hospital at the Leanne B. Roberts Animal Care Center. SF SPCA has San Francisco volunteer opportunities to care for shelter dogs and cats, conduct adoption counseling, assist clients and veterinary staff at the Leanne B. Roberts Animal Care Center, provide foster care, help with the Feral Cat Program, and enrich the lives of people in the community through animal-assisted therapy.
###