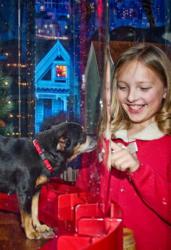 This is an amazing way for San Franciscans to volunteer just a few short hours of their time to help hundreds of animals find new homes
San Francisco, CA (PRWEB) October 25, 2011
San Francisco may not have seasonal snow flurries to bring on the holiday cheer, but it does have the adorable and adoptable cats and dogs of the San Francisco SPCA romping in Macy's holiday windows at the Union Square store. For 25 years, this tradition has defined the magical holiday season in Union Square and millions of people have taken part in the excitement.
Sign up today to volunteer to spread holiday cheer and help animals find homes during the 2011 holiday season. Last year, over 300 animals found new homes in the adoption center at Macy's and over $70,000 was raised for the organization – a feat made possible by the hundreds of volunteers who collect donations and greet gazers outside of the windows.
"This is an amazing way for San Franciscans to volunteer just a few short hours of their time to help hundreds of animals find new homes," says Jennifer Lu, communications manager for the SF SPCA. "Plus, what better way to be part of the magic of the holiday season? It is a perfect way to get into the spirit with friends, family and co-workers."
From November 18th through January 1st, SF SPCA Holiday Windows volunteers will volunteer for short shifts—around 2 to 2.5 hours—to support the SF SPCA's essential services. Volunteers are needed throughout the day and evening, generally 9:30 a.m. to 9:00 p.m.
Volunteers greet the public, collect donations and direct people to the SF SPCA adoption center inside Macy's. No commitment or special training is necessary; just register for a shift online at http://www.sfspca.org/holiday, call (415) 554-3008, or email windowsvolunteer(at)sfspca(dot)org.
About the San Francisco SPCA
The San Francisco SPCA is a community-supported, non-profit animal welfare organization dedicated to saving, protecting and providing immediate care for cats and dogs who are homeless, ill or in need of an advocate. The SF SPCA also works long-term to educate the community, reduce the number of unwanted kittens and puppies through spaying and neutering, and improve the quality of life for animals and their human companions.
Support the San Francisco SPCA by adopting, donating, volunteering and becoming a client of the state-of-the-art SF SPCA Veterinary Hospital at the Leanne B. Roberts Animal Care Center. SF SPCA has San Francisco volunteer opportunities to care for shelter dogs and cats, conduct adoption counseling, assist clients and veterinary staff at the Leanne B. Roberts Animal Care Center, provide foster care, help with the Feral Cat Program, and enrich the lives of people in the community through animal-assisted therapy.
For more information about San Francisco pet adoption, call the San Francisco SPCA at (415) 912-1742 or visit sfspca.org.
###