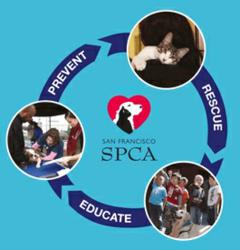 San Francisco already has the lowest euthanasia rate per capita of any major city in America
San Francisco, CA (PRWEB) March 07, 2012
The San Francisco SPCA recently expanded its mission to include the lofty, yet attainable, goal of making San Francisco the first city in the nation to end animal abandonment by the year 2020. This plan is called Vision 2020, and is based on research that identified three main reasons why animals end up in shelters: overpopulation, barriers to veterinary care, and behavioral issues.
"San Francisco already has the lowest euthanasia rate per capita of any major city in America," explained SF SPCA co-president Jason Walthall. "We're now ready to expand our programs and set our sights even higher. With the help of our supporters, we're confident we can completely end animal abandonment in San Francisco."
The Vision 2020 plan focuses on three tenets: prevention, rescue, and education. Preventing overpopulation and surrenders helps ensure that animals never need to enter a shelter; it is achieved by expanding free and low-cost spay/neuter programs, behavior resources and charitable veterinary care.
Rescuing every healthy, adoptable and medically treatable cat and dog will become possible by increasing adoptions, expanding foster programs and exposing puppy mills. Education rounds out the Vision 2020 plan. The SF SPCA will expand humane education programs for youth, develop more dog training classes and increase animal-assisted therapy training.
"By the time an animal enters a shelter, society or someone has already failed it," said SF SPCA co-president Dr. Jennifer Scarlett. "A shelter should be a safe haven for those truly in need; not a repository for bad decisions. Vision 2020 puts into place the social infrastructure to make sure abandonment doesn't happen in the first place."
The SF SPCA Adoption Center already saves over 4,000 cats and dogs each year, and the organization is now expanding its current programs and engaging the community to achieve its new goals by the year 2020. No other city in the nation has ever successfully ended animal abandonment, but the SF SPCA is confident that San Francisco can become a model for other cities across the nation.
About the San Francisco SPCA
The San Francisco SPCA is a community-supported, non-profit animal welfare organization dedicated to saving, protecting and providing immediate care for cats and dogs who are homeless, ill or in need of an advocate. The SF SPCA also works long-term to educate the community, reduce the number of unwanted kittens and puppies through spaying and neutering, and improve the quality of life for animals and their human companions.
Support the San Francisco SPCA by adopting, donating, volunteering and becoming a client of the state-of-the-art SF SPCA Veterinary Hospital at the Leanne B. Roberts Animal Care Center. SF SPCA has San Francisco volunteer opportunities to care for shelter dogs and cats, conduct adoption counseling, assist clients and veterinary staff at the Leanne B. Roberts Animal Care Center, provide foster care, help with the Feral Cat Program, and enrich the lives of people in the community through animal-assisted therapy.
For more information about San Francisco pet adoption and veterinary services, Vision 2020, or volunteer opportunities, call the San Francisco SPCA at (415) 912-1742 or visit sfspca.org.