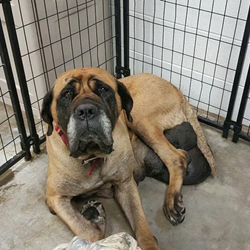 Bliss is the sweetest dog in the world, but you can tell the tumors are hurting her – we're asking for help from friends all across Colorado to raise funds for Bliss so she can get her operation and enjoy her retirement
Littleton, CO (PRWEB) July 15, 2016
The Scott Hoery Agency, a family managed insurance and financial planning company with offices serving Denver and the central Colorado area, is embarking on a charity drive in conjunction with the Big Dog Huge Paws organizations aimed at providing a tumor removal operation for Bliss, a local giant breed dog suffering from painful mammary cancer.
Bliss was a breeding dog for most of her life, but she recently developed large mammary tumors that have inhibited her ability to feed her pups. The tumors are benign at present, but are very painful for Bliss and have reduced her mobility. She needs an operation to remove the tumors and return to a comfortable and pain-free life.
"Bliss is the sweetest dog in the world, but you can tell the tumors are hurting her – we're asking for help from friends all across Colorado to raise funds for Bliss so she can get her operation and enjoy her retirement," says Scott Hoery, founder and manager of the Scott Hoery Agency.
Hoery and his team are reaching out to like-minded families, business owners, and community leaders all across Colorado over social media and email in an effort to share Bliss's story and raise donations for her operation. Scott Hoery Agency will also be running a full page feature article about Bliss in the next issue of the firm's online magazine "Our Hometown": http://www.scotthoeryagency.com/Our-Hometown-Magazine_39.
Scott Hoery Agency has recently joined the "Agents of Change" movement. As part of this ongoing community involvement program, the Hoery Agency team will be selecting and supporting another Colorado-based charity, cause, or non-profit organization every other month.
Readers that would like to help Bliss receive her tumor operation and enjoy her retirement are invited to join the Scott Hoery Agency and make an effort to support the cause from this page: http://www.scotthoeryagency.com/No-Tumor-is-a-Battle-for-our-Bliss_13_community_cause. Readers who want to stay informed about Colorado charities and non-profit organizations supported by the Scott Hoery Agency in the future can bookmark the firm's growing list of Community Causes here: http://www.scotthoeryagency.com/community-cause.
About Scott Hoery Agency
As a Personal Finance Representative living in Littleton/Highlands Ranch for 17 years with his wife and 2 children, agency owner Scott Hoery knows many local families. His knowledge and understanding of the people in his community ensures that clients of Scott Hoery Agency are provided with an outstanding level of service. Scott and his team look forward to helping families protect the things that are most important - family, home, car and more. Scott Hoery Agency also offers clients a preparation strategy for achieving their financial goals. To contact an expert at Scott Hoery Agency, visit http://www.scotthoeryagency.com/ or call (303) 738-0363