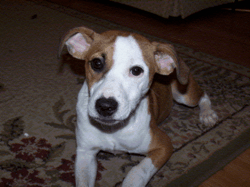 Cabin Creekwood positioned itself 16 years ago as a place where pets were welcome.
Waynesboro, VA (PRWEB) July 26, 2011
Traveling with pets is becoming more and more popular, as recent surveys indicate. According to a 2011 survey by PetRelocation.com, 60% of pet owners traveled at least one time with their pet in 2010, and 93% of pet owners expect to take at least one trip with their pet in 2011. Many of these pets have traveled more than once, with 22% expected to travel monthly.
Recognizing that pet travel was becoming more popular, Cabin Creekwood positioned itself 16 years ago as a place where pets were welcome. Since that time, they've hosted birds, cats, ferrets, iguanas and dogs, with the dogs easily leading the pack as the most popular travel companion.
Despite some trepidation about permitting pets, the staff at Cabin Creekwood has found that the vast majority of pets who come to their pet friendly cabins are very well behaved and used to living indoors. Of course, there are exceptions, but those are few and far between.
For those wanting to travel with pets, Cabin Creekwood offers these tips:
To find pet-friendly accommodations, websites such as petfriendlytravel.com, dogfriendly.com, petswelcome.com, or packthepets.com provide listings based on location. Many individual businesses will post on their website if they are pet friendly, but just because a website doesn't specifically say it doesn't mean that Fido isn't welcome. A quick phone call or email will clarify.
It is important while communicating with a lodging choice to make sure to find out what is expected. There may be fees, limitations on pet size, specific pet policies, etc. Companies that charge a fee should not be viewed negatively. Many times, they are just weeding out the pets that don't really belong, as people who are willing to pay the extra fees typically have pets that are better behaved.
When traveling with a pet, it is a good idea to take along the pet license and rabies certificate, as well as toys, bedding, and other familiar items that will help him to feel at home. Of course, making sure that flea and tick medicines are up-to-date will help to make sure that unwanted hitchhikers don't make it back home.
And most of all, respect of others will go a long way toward making sure that pets are always welcome. That means the pet should be kept under control at all times and be crated when left alone so they don't damage anything. It goes without saying that picking up behind a pet is a basic common courtesy that should be extended no matter what the location.
To find out more about Cabin Creekwood's pet-friendly cabins in Virginia, visit their website at http://www.cabincreekwood.com.
# # #