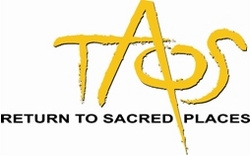 Taos, NM (Vocus) June 19, 2010
The Town of Taos is not only a great destination for people looking to rejuvenate and reconnect with what's important to them, but it is a great destination to bring what's important to them especially if that includes a beloved pet. Taos boasts more than a dozen lodging facilities and a number of restaurants with outdoor patios that are Fido-friendly.
"Travelers come to Taos to relax, but worrying about leaving their beloved dog behind can be stressful, especially since many of us consider our pets as part of the family," said San Geronimo Lodge owner, Charles Montgomery, whose Taos bed and breakfast (B&B) permits dogs. "We love dogs, as we have two of our own, and understand the importance of sharing a great experience like Taos with a canine companion."

Prior to booking a hotel or B&B, travelers should first contact the hotel or B&B to understand what the individual policies are when staying with a pet. Depending on the facility, some hotels may require the owner to be secured in a crate when left alone in the hotel room. Dogs need only have the appropriate vaccinations for rabies, DHLPP/Parvo and Bordetella. For cats, leukemia shots must also be current.
Pet-friendly Taos hotels and B&B's include, but are not limited to:
Adobe and Pines B&B Inn - dog walking yard available; $25 one time pet fee; crates required for pets in rooms alone; dogs must be leashed in common area. 4107 State Road 68 Taos, NM (575) 751-0947/ 1(800) 723-8267 mail(at)adobepines(dot)com
American Artists Gallery House B&B - limited pet friendly rooms available; $25 for up to 2 nights, $10 per additional night; pets cannot be unattended. 132 Frontier Lane Taos, NM (575) 758-4446/(800) 532-2041 taosbandb(at)gmail(dot)com
Casa Europa B&B Inn and Gallery - maximum of two pets allowed in La Casita only; must be leashed in common area; $20 fee per pet, per night. 840 Upper Ranchitos Taos, NM (888) 758-9798 stay(at)casaeuropanm(dot)com
El Monte Sagrado Living Resort and Spa - permits well-behaved pets under 40 pounds; dogs need to be leashed in common area. $75 one time, per pet charge. 317 Kit Carson Rd Taos, NM (575) 758-3502/1(800) 828-8267.
El Pueblo Lodge - $10 fee per night for first two nights, $25 additional night. 412 Paseo del Pueblo Norte Taos, NM (575) 758-8700/(800) 433-9612 elpueblo(at)newmex(dot)com
Historic Taos Adobes - well behaved small dogs only; non-refundable pet deposit pending length of stay; pet should not be left unattended in casita. (303) 912-0658 or (303) 832-8108 comfortjosh(at)yahoo(dot)com
Hotel Don Fernando de Taos - $25 per pet fee. 1005 Paseo Del Pueblo Sur Taos, NM ( 575) 758-4444 eshelton(at)donfernandodetaos(dot)com
Indian Hills Inn - $10 pet fee. 233 Paseo del Pueblo Sur Taos, NM (575) 758-4293/(800) 444-2346 danny(at)dannythurmer(dot)com
La Dona Luz Inn, A Historic B&B - well behaved pets only; $15 per night fee; crates or pet beds required for pets in rooms alone. 206 Des Georges Lane Taos, NM (575) 758-9000/ (888) 758-9060 info(at)stayintaos(dot)com
La Posada de Taos B&B - hypoallergenic breeds preferred; limited rooms available for pets. 309 Juanita lane Taos, NM (800) 645-4803 contact(at)laposadadetaos(dot)com
Old Taos Guesthouse B&B- $25 per per or $35 for two pets fee per stay; pet should not be left unattended in room. 1028 Witt Rd Taos, NM (575) 758-5448/(800) 758-5448 oldtaos(at)newmex(dot)com
Orinda B&B - $7 per dog per night; dogs only; well mannered dogs only; crates or pet beds required for pets in rooms alone. 461 Valverde St Taos, NM (575) 758-8581/ (800) 847-1837 orinda(at)newmex(dot)com
Sage Brush Inn - $7 per pet per night; crates required for pets in rooms alone. 1500 Paseo del Pueblo Sur, Taos, NM (575) 758-2254/(800) 428-3626 sagebrush(at)newmex(dot)com
San Geronimo Lodge - dogs only - $15 per stay, $20 for two dogs. 1011 Witt Rd. Taos, NM (575) 751-3776/ 1(800) 894-4119 sgl(at)newmex(dot)com
Additional pet-friendly hotels in Taos include: Days Inn, Hampton Inn, Quality Inn and Budget Host Inn. Pet friendly facilities are also available in the Taos Ski Valley at the Alpine Village Suites and Columbine Inn and Conference Center. For specific per night fees, visit individual hotel websites.
But since travelers don't want to confine Max to a hotel all day, there are several Taos restaurants that allow leashed, quiet and well-mannered dogs in their outdoor patios:
Alley Cantina - 121 Teresina Lane Taos, NM 9575) 758-2121
Eskes -106 Des Georges Place Taos, NM (575) 758-1517
Grahams Grille- reservations recommended; 106 Camino del Paseo Pueblo Norte Taos, NM (575) 751-1350
Old Blinking Light 100 State Rd. Route 150 El Prado, NM (575) 776-8787
Sabroso 474 State Highway 150 in Arroyo Seco, NM (575) 776-3333
Tim's Stray Dog Cantina 105 Sutton Place Taos, NM (575) 776-2894
Taos is an ideal getaway with endless unique outdoor activities, history and beauty galore for man or beast. For more information on the Town of Taos, visit http://www.taossacredplaces.com or http://www.taosvisitorguide.com.
# # #