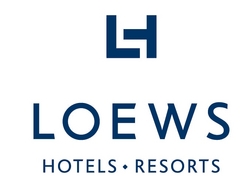 New York, NY (Vocus) May 20, 2010
In honor of the tenth anniversary of the Loews Loves Pets program, Loews Hotels launches its new pet-friendly "Dog Days of Summer" package. Available May 1 – August 31, 2010, the one-night package includes treats, toys and tips such as a special room service meal of veterinarian approved "Scooby BBQ Sliders" (recipe below), a "Fling Thing" Frisbee from West Paw Design and dog walking tips from "It's a Dog's World," pet expert Wendy Diamond's new book. Pricing ranges from $174 at the new Loews Atlanta Hotel and $314 at Loews Santa Monica Beach Hotel. To book, call 1-800-23-LOEWS or visit http://www.loewshotels.com .
Some of Wendy's dog walking tips include:

Walking Side-by-Side: "When walking your dog, be sure your pet is beside you, or behind you, but never in front of you. If you let your dog rule follow the leader, letting it go first, this only signals to the dog that it's in charge. Your dog should never walk you!"
Positive Paws: "Encourage your dog to walk beside you by reinforcing the positive walking experience with giving intervals of favorite treats. Calmly speak a special name/command when giving the treats instead of barking the usual commands such as "no" or "heel", as this positive reinforcement creates a rewarding tag name when your dog is walking properly."
Leash Etiquette: "When using a leash, make sure you give your dog just enough leeway, but not too much. The key is using a looser leash as a walking guide. If you pull on the leash too tight or often, your dog will counter-pull creating a polarizing game of tug of war, instead of an enjoyable walk through the park."
Loews Hotels has also partnered with West Paw Design because it creates products with minimal environmental impact by using nontoxic, organic or recyclable materials for all canine products. Fling Thing toys are a perfect fit for dogs of all sizes and are strong enough to last through endless hours of fetch or rough housing. Made with nontoxic, durable and pliable material, the Fling Thing can also be recycled.
Since the start of the Loews Loves Pets program, many VIPs (Very Important Pets) have made Loews Hotels their home away from home, enjoying the special treatment and privileges that are offered at all of the chain's properties in the U.S. and Canada. As part of the program, each visiting VIP can travel in first-class comfort with gourmet room service, specialized bedding, a pet amenity and guest services designed to make pets and their owners feel right at home.
The Loews "Dog Days of Summer" package is subject to availability and is bookable at 18 Loews Hotels in the U.S. and Canada. For more information or to book, call 1-800-23-LOEWS or visit http://www.loewshotels.com .
About Loews Hotels
Headquartered in New York City, Loews Hotels owns and/or operates 18 hotels and resorts in the U.S. and Canada, including the newest 414-room Loews Atlanta Hotel opened April 1, 2010. Located in major city centers and resort destinations from coast to coast, the Loews portfolio features one-of-a-kind properties that go beyond Four Diamond standards to delight guests with a supremely comfortable, uniquely local and vibrant travel experience. Loews boasts some of the industry's most innovative and successful travel programs, including Loews Loves Kids for families and Loews Loves Pets for discerning animals on the road. For reservations or more information on Loews Hotels, call 1-800-23-LOEWS or check http://www.loewshotels.com .
Follow Loews Hotels on Twitter at http://twitter.com/Loews_Hotels .
Fan us on Facebook at http://facebook.com/LoewsHotels .
Contact:
Emily Goldfischer
Loews Hotels
212-521-2833
egoldfischer(at)loewshotels(dot)com
Michelle Colligan/Molly Mesnard
Redpoint Marketing PR, Inc.
212-229-0119
colligan(at)redpointpr(dot)com
mesnard(at)redpointpr(dot)com
Recipe for Scooby BBQ Summer Sliders:
By Loews Hotels Executive Chef, Marc Erhler
Ingredients:
4 oz. Raw ground beef
2 oz. Rendered bacon, soft, chopped
3 slices Large button mushrooms
3 "Pupperoni"
3 Mini dog biscuits
1tbsp. Parsley
1 tsp. MILD BBQ sauce
Process: Mix ground beef, chopped rendered bacon, chopped parsley. Shape into 3" patties. BBQ for two to three minutes on each side.
Presentation and service: Place three patties on a rectangular plate. Garnish each with "Pupperoni" and mushroom. Top with mini dog biscuit. Drizzle the BBQ sauce on the plate.
###