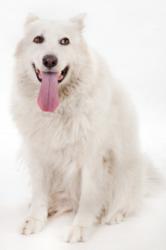 Data released by the Arthritis Foundation reveals that one in five dogs in the U.S. have arthritis.
Seattle, Washington (PRWEB) December 11, 2012
Natural pet health is something that pet owners prefer for a family cat or dog that is over the age of seven. Animals that reach the senior years could have joint discomfort due to arthritis or other issues. The Pet Bounce company has created a new homeopathic formula that is safe to use for pets. This new solution provides relief to help keep pets active without the symptoms of growing older interfering with daily life. A no cost trial of this formula is now offered on select orders.
Data released by the Arthritis Foundation reveals that one in five dogs in the U.S. have arthritis. This study reports that dogs that have difficulty moving around, sleeping or that gain weight easily could suffer from this joint disorder.
While veterinarian treatments can include NSAID capsules or long-term options, the Pet Bounce company has launched its natural joint health product to provide owners of pets with a cost effective solution.
According to the Arthritis Foundation, scientific research has proven that joint issues were experienced by dinosaurs and other living creatures since the beginning of time. The natural degeneration of tissue that protects moving joints is one of the factors that leads to conditions like arthritis.
Since pets cannot speak or communicate problem parts of their body, owners of pets have few options apart from medical diagnosis to treat the degeneration of animal joints.
The homeopathic ingredients that are offered in the newly launched formula include some of the most common and uncommon remedies for better joint stimulation and health. Ingredients like Apis Mellifica, Colchicum Autumnale 200 and Ruta Graveolens are plant based and have been used in medicinal treatments for centuries. These natural ingredients have been added inside of the new formula to ensure that a pet owner receives approved ingredients.
Since many pets can refuse a capsule or powder form of therapy, the PetBounce.com formulas offer an oral solution that is easily administered to dogs, cats or other pets. This easy application process helps to provide faster relief to animals suffering pain and discomfort.
A single or multiple month bottle can now be purchased entirely online to provide an affordable option for monthly pet health solutions for any breed of animal.
About Pet Bounce
The Pet Bounce company launched its company solutions for health and wellness in 2002. As a registered member of the Natural Products Association, this company provides a range of solutions that promote healthy formulas that include natural ingredients. The tested formulas that are offered to pet owners through the Pet Bounce website provide alternatives to traditional veterinarian visits to ensure that cats, dogs and other animals receive proper joint assistance. This company is one of the largest providers for arthritic solutions for animals in the U.S.