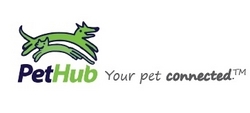 What's cool about this easy approach is that while the physical tag remains unchanged, the pet owner can modify the pet's online profile to control what's shown when that tag is scanned with a cell phone.
Seattle, WA (PRWEB) March 2, 2011
Pet Hub, Inc., announced today the nationwide release of the Pet Hub Link™ tag: a pet ID tag that uses new QR coding to reconnect lost pets with their owners. These increasingly popular 2-dimensional barcodes are engraved on the Link tag and quickly read by freely available software on iPhone, 'Droid and other cell phones displaying the pet's webpage on PetHub.com. "What's cool about this easy approach," said Tom Arnold, President and founder of PetHub, Inc., "is that while the physical tag remains unchanged, the pet owner can modify the pet's online profile to control what's shown when that tag is scanned with a cell phone."
While one side of the metal Link ID tag has the laser-etched 2D barcode, the other side has a human-readable web address. "While we're not trying to replace micro chipping, the obvious benefit of our tag is that anyone with a phone or a computer can help get a lost animal back home quickly and skip the step of going to a shelter or veterinarian's office to find a special scanner," noted Arnold. Unlike micro chipping, which research shows only 5% of animals in the United States have, and of those animals, 58% of the contact information is outdated, PetHub Link tags are easily updated by owners with the click of a mouse. When a pet goes missing, PetHub allows the user to control how people can contact them. In addition, the owner can update the pet's profile on PetHub.com to show such important and timely information as the pet's medications, current vaccinations, licenses, and pertinent past medical history. "In our Beta testing we found many of our users worried about their pet's old ID tags which showed their phone number or home address," commented Arnold. "They liked the option PetHub.com offers where they can list their vet or 'doggie daycare' as their contact instead."
Pet Hub also has a simple "Contact Pet Owner" button option that protects privacy while allowing direct notification to the pet owner. PetHub.com acts as a proxy allowing someone who found a lost pet to contact the owner through the website effectively protecting the pet owner's personal email address while making them easy to reach. "Providing that 'Contact Pet Owner' button, where we act as a go-between, is an example of a feature that came out of our beta testing where a lost pet wearing a Pet Hub tag was safely and happily re-united with its owners," said Arnold.
During the month of March 2011, PetHub.com is expanding its offer of free Pet ID tags (plus $3 for shipping) beyond Seattle. "We focused initially on Seattle to determine our processes and connect with our users more easily. Now we're ready to give out tags nationwide," said Arnold. "We etched and shipped over 3,000 tags completely free. Starting March 31, we'll start charging $9 for the tag, plus $3 for shipping." When asked why PetHub.com is giving away the free tags, Arnold responded, "We simply want more feedback."
Over the next few months PetHub.com will roll-out a subscription model for premium services available to both pet owners and pet businesses. "When one out of three pets is either lost or stolen in its lifetime, our goal is to help people keep their pets safe both with the pet tags and our directory of screened service providers, such as sitters, walkers, vets, trainers, breeders, rescue shelters, and others," said Arnold. "These trusted providers can then share and contribute to the animal's online records. Imagine being at work and getting a text that Rover's account had a new entry from the dog sitter saying they were able to get into the house okay and had a great walk with the dog. As a pet owner, a simple text update like that is a good feeling. We're more than just the Link ID tag, we keep your pet connected," concluded Arnold.
Pet Hub, Inc., is an Angel funded start-up in the Seattle, Washington, area founded by Tom Arnold, a 20-year veteran of the software industry. Tom has two cats and a new 15-week old puppy he's training for Avalanche Search & Rescue work. "Your Pet Connected." and "Pet Hub Link" are trademarks of Pet Hub, Inc. Pet Hub Link ID Tags are patent pending. Copyright 2011, Pet Hub, Inc. All rights reserved.
Contact:
Tom Arnold
206-335-8797
###