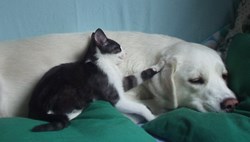 Shoppers can get 10% off their policy when they buy online through Tiger.co.uk.
(PRWEB UK) 10 April 2013
Tiger.co.uk, better known for its car insurance comparison services, has announced the introduction of Petplan as the sole provider of pet insurance products available through the site.
Petplan has over 37 years of experience in providing pet insurance to millions of pet owners in the UK and prides itself on providing excellent customer service. Petplan is a specialist in the pet insurance market and shoppers can get 10% off their policy when they buy online through Tiger.co.uk.
As testimony to the company's products and high levels of service, 90% of Petplan customers renew every year and its pet insurance service features:

The option to buy 12 month or lifetime pet insurance cover.
A promise to settle 90% of claims within five days.
Payment to vets directly in the event of a claim.
A copy of the bi-annual "PetPeople" magazine.
Rewards and discounts on pet related products and services.
Tiger.co.uk has recently undergone a site relaunch and now offers pet insurance exclusively from Petplan. Cover is available for dogs, cats, rabbits horses and other more exotic animals so pet owners should not need to look any further to get a quote or arrange cover online.
Andrew Goulborn, Commercial Director at Tiger.co.uk, commented: "We are proud to offer such a prestigious and established pet insurance brand to our shoppers and we are excited to be working with Petplan. We are better known for our car insurance comparison service but we can now offer great savings on many other products and pet insurance is just one of these. We aim to continue improving and expanding our service and product offering to shoppers throughout 2013 so if you are looking out for a great deal on any insurance or financial products, be sure to visit Tiger.co.uk to see whether we can help!"
About Tiger.co.uk
Tiger.co.uk is a trading name of Call Connection Ltd. Tiger.co.uk is a UK based, independent car insurance comparison site, offering insurance quotes from over 150 motor insurance brands. Call Connection Ltd is authorised and regulated by the Financial Services Authority (number 308374).