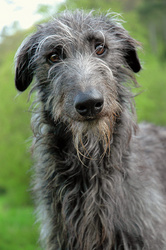 we find it has two great joys in life: running after things for great distances ... and lying next to you on the sofa
Beachwood, OH (PRWEB) February 18, 2011
Leading pet insurance company, Embrace, offers tips on purchasing a Scottish Deerhound, after Hickory became the first Scottish Deerhound to win Best in Show since the Westminster Kennel Club began awarding the prize in 1907. She became the second hound to win in the last 4 years, after a beagle named UNO won in 2008.
For many people Hickory is likely the first time you've seen or heard of a Scottish Deerhound. You may be so drawn in by her win that you're thinking of getting a Scottish Deerhound of your own. Before you run out and get one we've put together some information for you to consider. Embrace maintains an extensive library of health guides on over 300 dog and cat breeds, including behavioral notes and tips on how to keep your pet happy and healthy.
Looking at the Deerhound we find it has two great joys in life: running after things for great distances at enormous speed, and lying next to you on the sofa, head in lap. If you can provide him with both those things, then you face a bright future together.
You should, however, be prepared for certain risks that come with owning a Scottish Deerhound. They usually weigh 70 to 130 lbs and are prone to cardiomyopathy, bloat, bone cancer (osteosarcoma), and arrhythmia. The costs for treating these conditions can quickly reach into the $1000s.
If you're ready to go out and find your very own Hickory here are 4 tips to bringing home a healthy Scottish Deerhound puppy:

If you decide a Scottish Deerhound may be right for you, make sure to select a breeder who is a member in good standing of the Scottish Deerhound Club of America.
Puppy or adult, take your Scottish Deerhound to your veterinarian soon after he becomes part of your family. Your veterinarian will be able to spot visible problems, and will work with you to set up a preventive regimen that will help you avoid many health issues. For all Scottish Deerhounds this includes advice on how to prevent and respond to bloat and torsion.
Although Scottish Deerhounds are virtually never found in pet stores, the advice to never, ever, ever buy a puppy from that source still stands. You're more likely to get an unhealthy, unsocialized and difficult to house-train puppy and will be supporting the cruelty of high-volume puppy mills.
Make sure you have a good contract with the seller that spells out responsibilities on both sides. In states with "puppy lemon laws," be sure you and the person you get the dog from both understand your rights and recourses.
We encourage you to learn more about the Scottish Deerhound's health risks, and to consider pet insurance as a safety net, should the unexpected happen down the road.
Visit: http://www.embracepetinsurance.com/ to learn more.
About Embrace Pet Insurance:
Embrace Pet Insurance Agency LLC is a specialist insurance agency headquartered in Beachwood, Ohio. Insurance experts Laura Bennett and Alex Krooglik, who are both pet parents, founded Embrace in 2003. Embrace offers self-serve, customizable pet health insurance for dogs and cats. Embrace is based on core principles of taking an open and honest approach with its customers that is captured in its Customer Bill of Rights. Laura sits as the chair of the North American Pet Health Insurance Association.
About the North American Pet Health Insurance Association:
Embrace is a member of the North American Pet Health Insurance Association (NAPHIA). Founded in 2007, the North American Pet Health Insurance Association is committed to educating and promoting the values and benefits of quality pet health insurance to North American pet owners, the general public, and the veterinary community. As an association, it is committed to high standards and transparency in all of our actions and products. To learn more, visit http://www.naphia.org
###