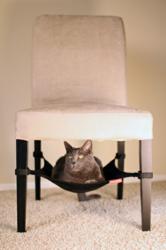 I couldn't get our new Cat Crib hooked up completely and my kitty was already laying in it! She loves it - and she knows it's special for HER as her sister doesn't really frequent that part of the house. Thank you Cat Crib for a great product! -Janet S.
(PRWEB) February 15, 2013
The Cat Crib has been the recipient of two major awards in late 2012/early 2013. It has received the Cat Fancy Magazine's Editors' Choice award for 2012 and was chosen by the famous veterinarian Marty Becker for the Top Pet Products of 2012. Kitties around the world have given the Cat Crib their seal of approval. What makes the Cat Crib different from other pieces of cat furniture is its patent pending design that gives cats a comfy place to hang out under an existing chair or end table. The four straps of the bed are attached to the chair legs, providing a covered sling where the kitty can hangout. Wasted space underneath the chair is used, freeing up floorspace in the rest of the home and eliminating the need for bulky pet beds.
Check out these happy cats in their Cat Cribs. The Cat Crib has been featured on international television shows, magazines, and newspapers. It has made an appearance on the television show "My Cat From Hell". Add to this list numerous articles written in design, home, and pet blogs and it has been a great start for the Cat Crib!
The Cat Crib is based in Southern California. The grey kitty featured on Cat Crib's website is the company spokesperson Vladimir. He was the inspiration behind the Cat Crib The Cat Crib is available worldwide – from Japan to Germany to Brazil, the Cat Crib is enjoyed by all kitties. Retail and Wholesale partners are being actively sought.