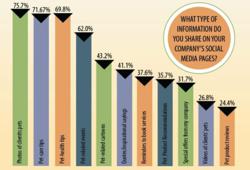 Now, as their social media use increases, [pet sitters] are also becoming online influencers, with the resources to share their pet-care expertise and product knowledge and recommendations with an even larger audience.
(PRWEB) January 31, 2013
Pet Sitters International's recent Pet Sitters and Social Media Use Survey found that nearly 60 percent of its professional pet-sitter members use at least one social media platform to promote their pet-care services. While seemingly late adopters of social media and online marketing opportunities, professional pet sitters are now increasing their use of social media for business purposes—and sharing a variety of information from clients' photos to pet-product recommendations—according to the survey's findings.
Pet Sitters International (PSI) e-mailed its survey to 6,849 member businesses with active e-mail addresses. The survey received 2,286 responses; a 33 percent response rate.
"This survey offers the most comprehensive data currently available in the industry on social media use by professional pet sitters," noted PSI President Patti Moran.
Pet sitters are using social media for more than free advertising. PSI's survey found pet sitters are taking advantage of social media sites to engage with and educate pet owners on important topics like pet-health resources, pet-care tips and pet-product recommendations.
Pet sitters reported the type of information most often shared on their social media pages are photos of clients' pets (75.7 percent), followed closely by pet-care tips (71.6 percent) and pet-health tips (69.8 percent).
Thirty-six percent reported sharing pet-product recommendations with pet owners via social media and 46 percent indicated they felt "somewhat" or "very" comfortable recommending products to clients through this medium.
"Professional pet sitters have long been key influencers as trusted pet-care advisors to their clients," said Moran. "Now, as their social media use increases, they are also becoming online influencers, with the resources to share their pet-care expertise and product knowledge and recommendations with an even larger audience."
Facebook was the most widely-used social media platform for business use, with 54.2 percent of respondents reporting use of a business page to promote their professional pet-sitting services and interact with pet owners. This marks a 27 percent increase in Facebook use for business promotion since PSI's 2011 State of the Industry Survey in which 42.6 percent of PSI members reported using Facebook to market their pet-sitting services. Eighty-two percent of pet sitters also reported having personal Facebook accounts.
"For me, pet sitting is a relationship-based business. I work hard at cultivating relationships with clients, fellow pet-care professionals and other small-business owners," explained Cynthia Johnson, owner of Copy Cat & Dog Care in Lebanon, Ohio. "Social media—Facebook in particular—allows me to do that on a regular basis."
While Facebook was reported as the most widely-used platform, pet sitters' use of Twitter to promote their services also showed a significant increase since the last survey—up from 11.3 percent in 2011 to 15.5 percent this year. The survey found that pet sitters are also beginning to create business accounts on other social media platforms as well, including LinkedIn (13.9 percent) and Google + (12 percent).
Respondents reported less significant use of other social media platforms to engage with pet owners and promote their pet-sitting services, such as YouTube (5.8 percent) and Pinterest (2.7 percent).
Established in 1994, PSI is the world's largest educational association for professional pet sitters. To learn more about PSI, its membership and the results of this survey, visit http://www.petsit.com. For more information on pet sitting as a career, download PSI's free 2013 Pet-Sitting Industry Forecast.