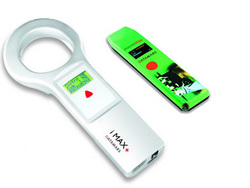 Experience the peace of mind knowing your pet is identifiable and can be returned to you if lost
Fort Lauderdale, FL (PRWEB) February 10, 2010
Pet Travel Store announces two new products from Datamars: iMax+ and Micromax pet microchip scanners. The iMax+ uses the latest technology available today to scan all common, non-thermal microchips on the market. The Micromax scanner is the first personal scanner available to the public. Lightweight and small in size, it is the perfect choice for pet owners whose pets have been micro chipped with a 15 digit ISO microchip.
Susan Smith, President of Pet Travel, Inc. and owner of Pet Travel Store, said, "We are excited to be able to carry these state of the art products from Datamars. We are committed to encourage pet owners to properly identify their pets. The iMax+ and the Micromax scanners provide such great insurance to pet owners that their pets can be properly identified should the need arise."
Datamars iMax+ - A Universal Scanner for All Pet Microchips:
The Datamars iMax+ is truly a universal scanner, reading all non-thermal microchips common in the market today. This pet microchip scanner will read ISO 11784/5 FBX-B microchips and is backward compatible with FDX-A/FECAVA and Trovan microchips. The iMax+ scanner is resistant to interference and provides a high quality signal while using safe, reliable, low frequency radio waves. Additionally, It will read through all non-conductive materials.
The iMax+ has qualities suitable for a veterinarian, but is available to the pet owner. It is lightweight and easy to handle. It works with 9 volt batteries, lasting for around 1,000 reads before battery replacement is required. It comes with an auto power function that will automatically turn itself off after 90 seconds of non-use.
Datamars Micromax – The First Personal Pet Microchip Scanner Available to Pet Owners:
The Datamars Micromax is the first personal pet microchip scanner available to pet owners. This sleek, little scanner is about the size of a cell phone so it will easily travel with you and your pet. Better yet, it is priced affordably!
The Micromax will read all 15 digit ISO non-thermal microchips (FDX-B) on the market today operating at 134.2 kHz. It is the most revolutionary and unique reader for animal identification, and is specially designed for pet owners! The LED screen makes scanning easy and fun. Just push the button and position at the base of the neck. The Micromax will provide you with over 3,000 reads before battery replacement is required.
Keep Your Pet Safe!
Both of these exciting, new products represent the latest equipment available in pet identification. Pet owners are responsible for keeping their pets safe. Micro chipping and registering a pet is essential for reuniting pets and their owners. Microchip scanners help to insure that a pet's microchip has not migrated and has been inserted properly.
For traveling pet owners, a microchip is a must. If a pet has an ISO microchip, the Micromax is a perfect choice. If a pet has an older microchip, carrying a scanner like the iMax+ will insure that a pet can be identified should it be separated from the owner.
More detail about these new products is available at http://www.PetTravelStore.com.
###