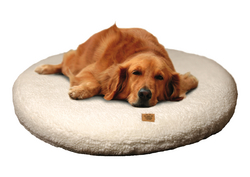 This is a great bed for animals of all ages
Costa Mesa, CA (PRWEB) March 23, 2010
Statistics show that one in five dogs will suffer with some form of arthritis in their lifetime. Veterinarians agree that one way to help bring relief for those aches and pains is to provide a comfortable supportive surface on which these dogs can sleep and rest. The SnooZZy OrthoAir inflatable pet bed by Precision Pet Products was designed specifically to provide this therapeutic benefit to dogs of all ages.
Unlike ordinary beds with fillers that can clump and break down, the patented SnooZZy OrthoAir pet bed uses a series of inflatable I-beam chambers to provide even support across the entire surface of the bed. The firmness of the air-filled chambers can be adjusted, creating a bed that offers continuous support with no discomfort to the pet's pressure points.
"This is a great bed for animals of all ages," said David Link, Founder and CEO of Precision Pet Products. "It uses the same principles as the air filled beds you see advertised on TV for humans and provides pets with a comfortable surface that can help relieve their joint and muscle pains."
Approved by veterinarians, the OrthoAir inflatable pet bed has also proven to be useful in clinical settings. "They do not absorb odors due to the waterproof material from which the mattresses are made and the covers are easily removed for washing or sterilization. This is a major benefit in the care of incontinent geriatric animals and animals with surgical wounds. In veterinary practice situations these 'air' beds could also benefit arthritic animals and animals in anesthesia recovery as well as providing insulation for outdoor kennels and other areas," says Dr. Judy McBain, DVM, MSc, a top veterinarian in San Diego, Calif.
In addition to its many therapeutic benefits, the OrthoAir pet bed is also built to last. The specially formulated, marine-grade, 32-gauge PVC is scratch and claw resistant. For added comfort, each OrthoAir bed includes a machine washable fleece cover.
The OrthoAir comes in six sizes that are designed to fit most standard crates plus a 42-inch round model. They are perfect for both indoor and outdoor use and can be easily deflated for travel. The round bed can be filled in less that 30 seconds with the included electric inflation pump, while the rectangular models have an easy-to-use mouthpiece, allowing the bed to be inflated anywhere.
"This is just a great dog bed," added Link. "It's comfortable, it's tough, it's easy to travel with and will stay that way for many years."
The SnooZZy OrthoAir inflatable bed is a durable, lightweight and therapeutic dog bed unlike any other on the market. The OrthoAir pet beds come in sizes suitable for toy breeds to extra-large breeds and range in price from $15 - $86. Suggested retail price for the replacement covers is $10 - $27.
About the Company
Founded in 1985, Precision Pet Products is a leading importer and manufacturer of quality pet products, including crate containment solutions, bedding solutions, dog houses, housebreaking and pick-up solutions and products for cats and rabbits. With over 25 years experience in the pet industry, Precision Pet Products are sold all over the world. The company has been recognized for quality and service in the pet industry with such accolades as "Vendor of the Year"; Nominated for "Best Packaging and New & Improved Displays"; and National Industry recognition for "Best Product Display" with the Pet Industry Pinnacle Award. Precision incorporates innovation in advanced design and offers attractive and functional products that meet the highest of industry standards.
###