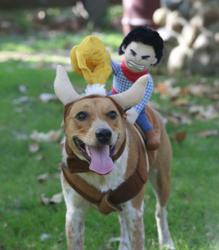 Garden Grove, California (PRWEB) October 17, 2012
Internet retailer PetStore.com announced their first-ever pet costume contest October 9 to help kick off the Halloween season. The two photo entries with the most "likes" on the company's Facebook page will be rewarded with gift certificates to spend at the popular online pet supply destination. Winners will be announced October 31.
"Is there anything cuter than a pet in costume?" asks PetStore.com's Director of Operations Ben Ros rhetorically. "Having a Halloween costume contest for pets seemed like a natural way for us to celebrate the holiday. There may only be two winners, but we think everyone who sees cute costumed animals will leave in good spirits."
There is no purchase necessary to enter the contest. U.S. residents 18-years-old and older need only post a photograph of their pet in costume on PetStore.com's Facebook page before October 31 to be eligible. The entrant's photograph with the most "likes" by Halloween will be rewarded with a $100 PetStore.com gift certificate to spend on their pet. The photo with the second most "likes" will be emailed a $50 PetStore.com gift certificate that they too can share with their award-winning animal.
According to the National Retail Federation, American consumers are expected to spend $370 million on pet costumes this Halloween. That is $70 million more than last year and a 40% increase compared to 2010. The NRF's Top Costumes survey pinpoints the most popular pet Halloween costumes for 2012 as a pumpkin, devil, hot dog, cat and bee.
Of the 16 entries posted to the PetStore.com Facebook page since the contest kicked off October 9, only one of the NRF's top five costumes is represented: the pumpkin. Other entries include Superman, a monkey, a caveman, a squirrel, a princess, a frog prince, two pirates and three cowboys.
"Pet owners dress their dogs in hats and sunglass during the summer, but Halloween really gives them an opportunity to let their imaginations run wild," observes Ros. "Hopefully we'll see some creepy cats, frightening ferrets and bloodcurdling birds participate before our inaugural contest comes to a close."
To cast a vote for your favorite costumed critter or to submit a photograph of your own pet in costume, visit PetStore.com's Facebook page before October 31. To shop more than 30,000 pet products or to read the contest's official rules, head over to the PetStore.com website. The store is also having a site wide 10% off sale until Halloween. Just enter the coupon code HALLOWEEN during checkout to take advantage of this limited-time offer (excludes EcoTech Marine products).
About PetStore.com
PetStore.com is an online-only pet shop founded in 1999. The family-oriented store features 30,000 pet products from 400 popular brands like Purina, Frontline and Zoo Med. PetStore.com stocks most of the popular products found in your local pet store, but sells them for less. There is even a Price Match Guarantee in place to ensure shoppers always pay the lowest price for their purchases. Pet enthusiasts have contributed over 30,000 product reviews to the site which provides shoppers with an unbiased look at all the toys, treats and tanks available for their pets. Flat-rate shipping is available for only $5.99 and orders over $75 ship for free. All PetStore.com products are new with factory warranties in addition to the store's own 60-day money-back guarantee. A team of pet experts provides free technical support and sales advice via telephone, email and on social networking websites.