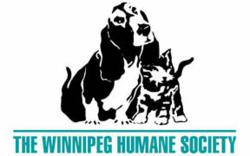 We are always looking for fun and interesting ways to get people excited and talking about animals
Winnipeg, Manitoba (PRWEB) July 13, 2012
The Winnipeg Humane Society will be joining in the fun this year at the Winnipeg Fringe Theatre Festival. The WHS is holding a contest during the Fringe calling on all Manitobans to scratch their creative itch and write pet-related haiku poems. An example:
He reads the paper
How dare he do such a thing?
I sprawl out on top
"We are always looking for fun and interesting ways to get people excited and talking about animals," said Aileen White, Director of Communications and Public Affairs, "We are thrilled to be involved with such a great, local festival like the Fringe and happy to celebrate the thriving creativity in our city."
To enter, Manitobans must share their original, pet-related haiku poems on The WHS's Facebook page between July 18 and 31. By doing so, they will be eligible to win tickets to Rainbow Stage's performance of Annie, IMAX, Cinematheque and The Globe Cinema. A draw of all eligible entries will take place at 4 p.m. on July 31.
Haikus are short, 17-syllable poems of Japanese origin. To be considered a haiku, the first line has to have five syllables, the second has seven and the third has five. Examples of Pet Haikus can be found on The Winnipeg Humane Society website.
The Winnipeg Humane Society will be at the Fringe Festival from July 27-29, located in the non-profit tent on Arthur Street. For more details on the contest, visit The Winnipeg Humane Society website at http://www.winnipeghumanesociety.ca.
The Winnipeg Humane Society is a registered charity and non-profit organization whose mission is to protect all animals from suffering and to promote their welfare and dignity. Funded primarily by donations, memberships and bequests, The WHS also offers pets and dogs for adoption by the public. All pets offered for adoption have been spayed or neutered, received necessary shots and treatments, and a behavioural assessment. If you'd like to learn more about dogs for adoption or The WHS please visit http://www.winnipeghumanesociety.ca