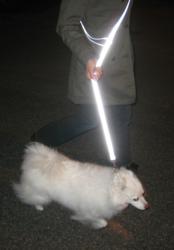 The pain and anguish of loss! All due to lack of awareness and no pet collar and ID tag.
Boulder, CO (PRWEB) September 28, 2012
A Microchip may not be enough to find a lost dog or cat. A collar with an ID tag is mission critical. Even better is a super reflective pet collar with identification tags. Pets are innocent and sometimes end up lost and in precarious situations.
Vedante's founder, Barbara Kantor, spent a couple days last week helping a friend find her lost dog. Vedante is a mission and profit based company committed to the safety of people and pets. Vedante is sharing this story in hopes of preventing the trauma caused by lost pets. This story had a good outcome - many others do not.
With delight that the lost dog was found, Kantor shares the story, "Leila ran out while my friend Dhyana was typing an email on Thursday. My friend was traumatized until her dog was returned home on Sunday.
"The little Yorki, Leila, was having her own horrific experience. Leila was picked up at 1 pm Thursday by the mail lady who saw her two blocks away. Leila rushed into the street when the postal worker stopped her van and barked at the mail lady. The postal worker knocked on a few doors and got no response, then took her back to the local postal office. She took Leila home with her that evening.
"The postal worker called the Humane Society on Friday. Leila's owner had been on the phone with the same Humane Society, but they did not make the connection. Since Leila was not taken to the Humane Society or a local vet, she was not checked for a chip.
"Lost pet posters were posted around the neighborhood and throughout Facebook. A substitute postal worker saw a poster on Saturday and figured out who Leila belonged to… and called the postal worker who had found her.
"Leila's family sent an email to Vedante's founder saying: 'Leila is SAFE and HOME. Leila appears a bit traumatized but relieved. I'm sure all this supports the idea that one has to have a proper collar and name tag on your dog!!! Please share this as much as you can! I did not put a collar on and could have avoided endless anguish for myself and a number of others. It will never be off her now except in the shower!'
"Vedante's founder, Barbara Kantor, asked Leila's owner, Dhyana, what she had gone through during her 4 day search for the pet she dearly loved.
"Dhayna responded by saying, 'Leila was really traumatized and I can give you my perspective on the trauma a pet owner goes through if you want that in a nutshell: I have been to the valley of death and back since Thursday with visions of Leila's eyes ripped out by a hawk, Leila dragged away by a fox, swept up by an owl, taken by a farmer to a distant county, stolen by someone and no loving baby to ever hold close again. Any nasty vision I could conjure up, plus the heartache and remorse (I was busy emailing and didn't notice she went outside, and she didn't have her collar with ID tags on!). The pain and anguish of loss! All due to lack of awareness and no pet collar and ID tag. Had she had her collar, I would have had a call that same day!"
The moral of the story is dogs and cats should be wearing collars with ID tags all the time.
About Vedante:
Vedante is a company committed to saving lives by increasing nighttime visibility and decreasing accidents through education, awareness campaigns, and "fashion that reflects well on you."
Barbara Kantor, CEO of Vedante, has developed her line of reflective products with both safety and fashion in mind. "We have a real opportunity to increase nighttime safety for both people and pets," said Kantor. "Vedante's mission is to promote nighttime visibility through highly reflective and durable products that are also fashionable and elegant."
Ultimately, Vedante's reflective products can significantly reduce deaths and injuries from vehicle-pedestrian accidents.
Vedante's pet products all come with a bonus Glow in the Dark ID Tag. Vedante's Glow in the Dark Pet ID Tag ($4.99) can also be purchased separately and placed on any pet collar. Super Reflective Cat Collar's retail for $13.98 and Super Reflective Dog Collar's retail from $12.98 - $19.98. Vedante Super Reflective Dog Leashes retail from $29.98 to $45.98.
POP BANDS can be seen reflecting at night in White, Yellow, Tangerine, Red, Pink, Blue and Green. They retail for $13.98 a pair. To view them in action on U-tube visit:http://www.youtube.com/watch?feature=player_embedded&v=p5fH9WYWEtY.
Vedante has consistently ranked among the top 10 best sellers in the United States at Amazon.com in its respective categories for super-reflective POP BANDS (for people) and super-reflective pet Collars\Leashes.
Vedante's Super Reflective products can be purchased online at Vedante's e-commerce website, Amazon.com in the USA, Amazon UK and select retailers (http://vedante.com/shop.html). To locate a local retailer visit vedante.com.
For safety tips, deal alerts and fun stories:
Facebook Fanpage: http://www.facebook.com/Vedante
Vedante Pet Products on Facebook: http://www.facebook.com/Vedante.Pet
Twitter: http://twitter.com/VedanteFDN