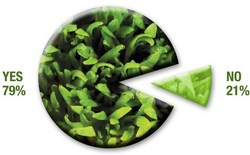 While a growing number of health conscious people understand the benefits of including green nutrition in their own diets and in their pets' diets, many simply are unaware of the options available to them
San Diego, Calif. (PRWEB) October 3, 2008
Green nutrition is now the latest way for pet owners to go green, according to a survey of 640 dog and cat owners across America. Kelton Research conducted the study on behalf of Bell Rock Growers, the pet industry's pioneer supplier of green nutrition products. The survey shows consumers are eager to provide their animal companions with more nutrition options from green foods, such as broccoli, spinach and wheat grass. In doing so, they just might inspire themselves to eat more of what they know is good for them. Highlights of the green nutrition survey include:
Green Nutrition, Knowing is Growing -- An overwhelming majority of those surveyed believe in the power of green nutrition for themselves and their pets and favor pet food products that include it.

Green Beliefs: A full 90 percent of American dog and cat owners believe in the importance of green nutrition for their own diets.
Good for Me, Good for My Pet: A majority (79 percent) of dog and cat owners say they would like to include green nutrition more often in their pets' diets.
Youthful Enthusiasm: Younger dog and cat owners are especially enthusiastic about getting their pets in on the green nutrition craze. Eighty-four percent of survey respondents between the ages of 18 and 44 would like to provide more green nutrition for their pets, vs. 73 percent of their older counterparts.
To Green or Not To Green: Sixty-five percent of American dog and cat owners say they'd choose a treat that includes green nutrition over a non-green treat for their pets, depending on the price. Twenty-five percent would be willing to pay more for treats with green nutrition. Thirty-three percent admit they need more information about green nutrition benefits for pets before making a decision.
More Greens for Greens: Pet owners ages 18 to 34 are more likely than those 35 or older to choose pet treats with green nutrition, even if it cost more (37 percent vs. 19 percent).
Walking the Talk -- While a majority of dog and cat owners understand the mutual benefits of green nutrition, many lack incentive to make it a consistent meal time addition.
It Ain't Easy Eating Green: Only 37 percent of American dog and cat owners that recognize the importance of green nutrition actually include it in their own diets. Thirty-four percent say they would like to incorporate more of it in what they eat, and 19 percent say that greens rarely make an appearance on their plates. Ten percent don't include it at all.
Women Aware of Green Deficits: Among pet owners who find green nutrition important, more women than men would like to increase their intake. (43 percent vs. 32 percent).
Older and Wiser: Of this same group, many more of those 45 and older actually include green nutrition in their diets, compared to their 18 to 44 year old counterparts (50 percent vs. 34 percent).
Green Reasoning -- When given a choice, pet owners value the potential medicinal benefits of green nutrition over other qualities.

Medicinal Motives: Thirty percent of American dog and cat owners say that neutralizing infection, healing wounds and overcoming inflammation are most important to them.
Healthy Coats and High Fiber: One in five (20 percent) pet owners value improving skin and coat condition most. The same amount (20 percent) say adding fiber to a pet's diet is a primary concern (20 percent).
Periodontal Benefits: Gum health and improving the condition of diseased gums is most vital for 16 percent of pet owners.
A Safe Source: Providing green nutrition as a safe alternative to their pets munching on grass or house plants is more important to 14 percent of dog and cat owners.
"While a growing number of health conscious people understand the benefits of including green nutrition in their own diets and in their pets' diets, many simply are unaware of the options available to them," says Bell Rock Growers Co-founder Catherine Hoffmann. "To make the leap from a good idea to a good habit, education and convenience is key."
To better inform consumers on the benefits of green nutrition for people and their pets, Hoffmann and Bell Rock Growers Co-Founder Marty Walls have published a free e-book, available to download at http://www.bellrockgrowers.com. Bell Rock Growers supplies a variety of convenient and affordable green nutrition options for pets, including live Pet Greens®, self-grow kits and treats made with certified organic wheat grass.
About Bell Rock Growers
Based in San Marcos, Calif., Bell Rock Growers is a certified organic grower of live wheat grass and the pioneer supplier of green nutrition products for pets. Bell Rock Growers' complete line of products Powered with Green Nutrition™ include: Pet Greens® Live Pet Grass® and Live Catnip; four varieties of Pet Greens® Treats for cats and dogs; Pet Greens® Garden self-grow wheat grass kits; and an all-natural grooming line made with wheat grass. For more information, visit http://www.bellrockgrowers.com.
About the Survey
The Bell Rock Growers Survey was conducted by Kelton Research between August 7 and August 11, 2008, using an email invitation and an online survey. Quotas are set to ensure reliable and accurate representation of the total population of American dog or cat owners ages 18 or over. Results of any sample are subject to sampling variation. The magnitude of the variation is measurable and is affected by the number of interviews and the level of the percentages expressing the results. In this particular study, the chances are 95 in 100 that a survey result does not vary, plus or minus, by more than 3.9 percentage points from the result that would be obtained if interviews had been conducted with all persons in the universe represented by the sample.
# # #