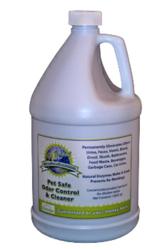 Pet Safe is easy-to-use, effective, and it's nice knowing it's safe for my pets and family, plus it just works!
Landenberg, PA (PRWEB) November 16, 2011
Green Chem Direct developed Pet Safe Odor Control and Cleaner to be an effective and safe odor neutralizer. Using natural enzyme activity, Pet Safe degrades and eliminates the odor source, and may be used on a variety of indoor and outdoor surfaces. If effectively destroys common pet odors including urine, feces, vomit, drool, mold, mildew and other pet messes.
The product meets the EcoLogo™ Environmental Standard for Odor Control Additives (CCD-115) based on its low impact for human health and the environment. It's been used successfully on concrete, carpet, upholstery, throw rugs, hardwood floors, ceramic tile and grout, pet blankets, cats boxes, pillows, dog beds, and litter boxes. It does not contain alcohol, ammonia, perfumes, solvents or masking agents. The natural enzymes are biodegradable, and break apart the source of odor safely.
Pet Safe Certified Green Odor Control and Cleaner has appeared on QVC in our concentrated quart and empty sprayer package, and sold over 12,000 kits. One QVC customer reported, "Pet Safe is easy-to-use, effective, and it's nice knowing it's safe for my pets and family, plus it just works!"
The concentrated product is odorless, and may be diluted with water for various uses. A one-quart bottle typically makes between one to two gallons. It is available in individual quart bottles, a case of twelve quarts, or a kit consisting of one quart of the product with an empty spray bottle. Complete product specifications and directions are available on the Green Chem Direct web site.
About Us
Green Chem Direct specializes in effective, safe Certified Green cleaning and pet products. At Green Chem Direct, we are passionate about providing the best environmentally friendly, bio-based cleaning supplies that are free of harmful chemicals, safe for the environment, and provide superior cleaning performance.
Customer and reseller inquiries can be directed to our web site at http://www.greenchemdirect.com, or phone us toll-free at 855-505-GREEN.
###