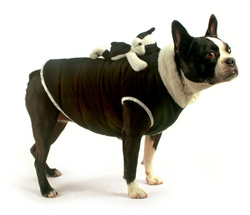 This fun new pet product represents a natural evolution from our success with heatable pillows designed for humans into a novel new offering for pets
Los Angeles, CA (Vocus) December 3, 2008
Warm Whiskers, the premiere maker of microwave heatable animal-shaped pillow products, introduces the inventive new addition to its pet product offerings, a unique form-fitted dog jacket with a very cozy twist. The new Warm Whiskers Doggyback Jacket Pack expands upon the classic fleece jacket design by adding one of Warm Whiskers' animal-shaped heat pads as a heart warming and body warming joy rider.
The doggy jacket/heat pack set uses a Velcro type system to attach the warm piggybacking pooch anywhere on the jacket's surface, enabling dog owners to apply long lasting heat to any part of the animal. Sore joints or muscles can now be targeted on the run with soothing, therapeutic heat during those beloved winter walks. Especially well suited for smaller, older, and even arthritic dogs vulnerable to cold weather, the thermal duo will be the envy of the neighborhood combining an excellent layer of thermal fleece protection with the added benefit of targetable heat therapy.
"This fun new pet product represents a natural evolution from our success with heatable pillows designed for humans into a novel new offering for pets," said Kyna Sternlight, co-owner of Warm Whiskers. "I think that we have succeeded based on the fact that our first shipment of Doggyback Jacket Packs was pre-sold before we even added it to our catalogue. That's a first for us, so we are very excited about the early response and are already well underway in our second round of pre-orders for delivery in November. Pet retailers just haven't seen anything as affordable, adorable and functional as the Doggyback Jacket Pack, so we expect great things for the product this season."
The Doggyback Jacket Pack ($35 MSRP) will soon be available at fine pet product retailers nationwide and at the Warm Whiskers.com website. Available in two color combinations, the jackets are trimmed with a white thermal fleece (Black jacket with black and white plush Boston Terrier buddy or Pink jacket with white fleece Polar Bear buddy). Four sizes for dogs ranging in weight from 2 to 44 pounds feature an adjustable belly belt for perfect fit and comfort. The jacket's versatile outer shell is made of Terylene, a customized poly-blend fabric with a surface optimized for attaching the heat pack.
For animal lovers, Warm Whiskers not only offers a wide variety of pet themed pillows to warm their own hearts but also a selection of cozy products to warm their pets as well: Microwave Heatable pet beds, animal carriers, and one-of-a-kind critter Door Bells that let both dogs and cats sound the alert to be let outside. All products come with detailed heating instructions and are available at http://www.warmwhiskers.com .
About Warm Whiskers:
Warm Whiskers is the maker of the finest microwave heatable relaxation and comfort pillow products in the world. They offer a comprehensive line of premium grain and herb filled body and eye pillows, neck and body wraps, and cozy slippers for all ages in plush fabrics and signature animal-shapes. Warm Whiskers also features a line of ultra-relaxing spa products in both plush and luxurious silk as well as a truly unique line of pampered pet products. All are filled with aromatic, all-natural lavender and body conforming buckwheat (or flaxseed for smaller items). Both grains offer long lasting therapeutic properties when heated in a microwave or even chilled in the freezer to provide cool relief on a hot day.
Recognized for the powerful, rejuvenating qualities of their loveable and cuddly animal-shaped pillows since the company's introduction in 2000, each and every Warm Whiskers product is designed to be restorative for both body and soul. As wellness promoting as they are endearing, their products offer the time proven benefits of heat therapy, the calming aromatherapy of fresh cut Lavender and chamomile, and the ergonomically engineered shapes that closely hug the contours of the body to promote an extraordinary level of relaxation and relief from stress and tension.
As the industry leader in its category, Warm Whiskers prides itself both on the quality and functionality of their products and on being recognized by consumers and retail partners for providing exceptional customer service and attention to detail in both craftsmanship and business practices. Warm Whiskers products are sold nationwide in a wide variety of retail categories and are distributed internationally by Romac Export Management Corporation.
###