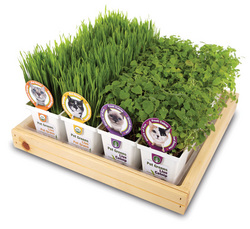 Our new Pet Greens brand delivers a striking aisle appeal for health conscious consumers on the lookout for high quality, nutritious products at reasonable prices
Orlando, FL (PRWEB) February 12, 2009
Bell Rock Growers, the pioneer grower and supplier of green nutrition products for pets, is now taking orders for newly branded and re-designed Pet Greens® Live Pet Grass® and Pet Greens Live Catnip. The company will showcase new Pet Greens Live Pet Grass and Live Catnip and the complete line of Pet Greens products during Global Pet Expo (Booth #2618), presented by the American Pet Products Association (APPA) and Pet Industry Distributors Association (PIDA) at the Orange County Convention Center in Orlando, February 12-14, 2009.
First introduced during Global Pet Expo in February 2008, new Pet Greens branding and packaging has received enthusiastic response from retailers and distributors interested in products that appeal to consumers who value nutrition. Since its debut, the Pet Greens brand has become a Bell Rock Growers signature across all product lines.
Pet Greens Live Pet Grass is already a leading cat SKU in major retail chains, selling over 30,000 units per week. According to Bell Rock Growers Co-Founder Marty Walls, the new Pet Greens branding has given the company's products a significant boost at checkout counters nationwide. "Our new Pet Greens brand delivers a striking aisle appeal for health conscious consumers on the lookout for high quality, nutritious products at reasonable prices," says Walls.
Pet Greens Live Pet Grass is 100 percent certified organic wheat grass, grown using only the finest quality seed and custom-blended soil to enhance nutrients and flavor. Vitamins, minerals and other nutrients found in wheat grass are known to improve digestion, skin and gum condition, neutralize infection, enhance night vision and boost resistance to disease, among other benefits. Wheat grass also satisfies pets' instinctual cravings for greens, providing a safe alternative to potentially harmful household plants and chemically-treated outside grasses.
Catnip is a safe, non-addictive treat for cats commonly used to stimulate exercise and play. The strongest, most aromatic catnip available, Pet Greens Live Catnip can be repotted for a continual supply of premium catnip all year round.
Pet Greens Live Pet Grass and Catnip have a suggested retail price of $4.99 - $5.49. Retailer prices may vary. Retailers and distributors who visit booth #2618 at Global Pet Expo in Orlando will receive Pet Greens samples and exclusive show offers.
About Bell Rock Growers
Based in San Marcos, Calif., Bell Rock Growers is a certified organic grower of live wheat grass and the pioneer supplier of green nutrition products for pets. Bell Rock Growers' complete line of products Powered with Green Nutrition™ include: Pet Greens® Live Pet Grass® and Live Catnip; Pet Greens premium dried catnip buds; five varieties of Pet Greens Treats for cats and dogs; Pet Greens Garden self-grow wheat grass kits; and an all-natural grooming line made with wheat grass. For more information, visit http://www.bellrockgrowers.com.
# # #