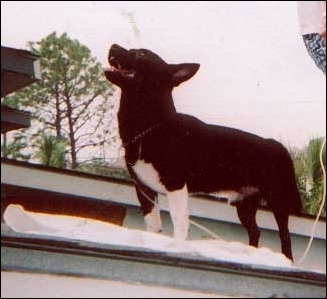 Are they really saying that less affluent people are not suitable to have pets?
Kanab, UT (Vocus) March 12, 2007
A disabled Hurricane Katrina victim fighting for the return of her dog will be in Phoenix on Monday, March 12, to pursue the case in court against the fosters that refuse to return Pablo to her (Superior Court of Arizona for Maricopa County CV-2006 051628).
Paula Duming, who now lives in Lafayette, Louisiana, and Best Friends Animal Society, will be in Superior Court of Arizona for Maricopa County. Pablo was one of the 6,000+ pets rescued and transported by Best Friends after Hurricane Katrina.
The defendants are Wendy Shieh and Dustin Jones, who lived in Phoenix when they started fostering Pablo. They moved to San Diego when the lawsuit was filed.
Shieh and Jones contend that Pablo has now bonded with them. But they were alerted to the fact that Pablo's person had been found more than a year ago, and well before the standard 90-day foster period ended. Rather than return the dog, they contend that they are better suited to provide for Pablo than Duming, who is on a fixed income.
"Are they really saying that less affluent people are not suitable to have pets?" said Michael Mountain, president of Best Friends. "Paula brought Pablo home on Christmas Eve 2004 when he was six weeks old. She has loved and cared for him all his life."
And now, in a strange twist, the couple's attorney, Donald Newman, is suggesting that they may be willing to return Pablo if they are paid $10,000.
"We are outraged by this 'offer'," said Mountain. "If these people truly cared about the dog, they would be offering to help Paula, rather than demanding money in exchange for him."
When New Orleans flooded, Duming was one of the thousands of people who were ordered to leave pets behind during the evacuation. The last thing she did, as she was airlifted from the roof of her house, was to snap a photo of Pablo. That photo, along with the dog's unique markings, his rabies tag number and that he was found in Paula's neighborhood, would later identify him as Duming's missing dog.
"For Best Friends and other humane groups, it was the biggest pet rescue in history," said Mountain. "And for many people like Paula, their beloved pets were literally all they had left. We promised them that we would do everything in our power to reunite them."
Best Friends Animal Society operates the largest sanctuary in the country for homeless animals, and provides adoption, spay/neuter, and educational programs nationwide. For more information, go to http://www.bestfriends.org.
###