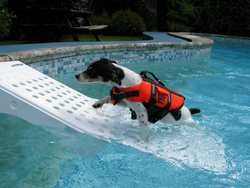 The Skamper-Ramp is the same type of high quality pet product with which we want to be associated.
Carlsbad, CA (PRWEB) March 23, 2010
GAMMA2, has finalized the deal to acquire Charleston, South Carolina-based Skamper-Ramp, LLC, manufacturer of water escape ramps for pets and animals. The Skamper-Ramp joins GAMMA2's growing line of airtight pet food containers including the Vittles Vault, Bucket Bowl and Travel-tainer, all featuring the patented Gamma Seal Lid®.
"This is a very exciting acquisition for us," said Curtis Leland, President of Gamma2 "The Skamper-Ramp is the same type of high quality pet product with which we want to be associated. It rounds out our growing line of product offerings designed to keep our pets safe and their food fresh. The basics that keep our pets happy!"
Each year tens of thousands of animals drown needlessly in pools and spas. These deaths are not a result of their inability to swim, almost all animals can, what they can't do is climb out over the edge of the pool. The Skamper-Ramp is a pet water safety ramp that provides these frantic and frightened animals a way to get themselves out of the water.
"The Skamper-Ramp is a great product that we really believe in," said Leland. "It is a simple solution to a serious problem and we think every pool owner should have one. Just like every pet owner should have a Vittles Vault to keep their pet's food fresh and good tasting. Both these products provide for pet happiness and safety at the most basic of levels."
The Skamper-Ramp gives pet owners the peace of mind that comes from the knowledge that their pets will always be able to get themselves out of a pool or spa without human help. This ramp is ideal for use by non-pet owners as well, preventing the stray possum, raccoon or even frog from drowning in a backyard pool. It is the easy solution that helps prevent simple accidents from becoming deadly.
The ramp is available in two different sizes. The Regular Skamper-Ramp is perfect for use in pools and spas. Capable of holding up to 200 pounds, it features easy snap together assembly and attaches to the pool deck via existing anchors or with the addition of two stainless screws. The larger Super Skamper-Ramp was created for use by very large pets. This model can also be used on floating docks and many boats. Both ramps feature polyethylene construction and can be left in the water year round without yellowing, becoming mildewed or even growing barnacles if used in salt water.
"These ramps offer the ultimate in peace of mind," added Leland. "Pets are like a member of the family, and the Skamper-Ramp is a low-cost, simple and effective way to ensure that no one has to suffer the heartache of discovering that their best friend has drowned. Everyone who has a pool or some sort of water feature in their yard should have one of these ramps, think of it as some of the cheapest insurance you will ever buy."
About the Company
Gamma2 (pronounced Gamma Squared) is a manufacturer, marketer, and designer of durable goods. Gamma2 began as Gamma Plastics in 1990 as a custom injection and blow molding company in San Diego, CA catering mainly to the biomedical industry.
After being awarded a utility patent for its closure device, the Gamma Seal Lid®, Gamma2 began manufacturing its renowned pet food containers that keep dry pet food fresh and pest free.
###