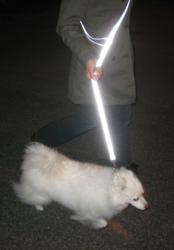 "We have a real opportunity to increase nighttime safety for both people and pets," said Kantor. "Vedante's mission is to promote nighttime visibility through highly reflective and durable products that are also fashionable and elegant."
Boulder, CO (PRWEB) May 31, 2012
Summertime can be as much fun for pets as it is for people. Dog and cat owners need to take some precautions to keep their animal friends cool, happy, and safe during the dog days of summer.
By following a few summer pet safety tips, you can keep your animal friends healthy and enjoy the months of sun and fun.
Vedante shares 10 Tips for Summer Pet Safety
1. Make sure your pets are visible at night:
Fewer hours of daylight in winter translate into visibility issues for your pet. Dogs and cats should wear highly reflective collars with 360° visibility. Reflective dog leashes, add extra visibility for both dogs and the people walking them. Look for visibility that extends 1000-1500 feet. Highly reflective materials include 3M Scotchlite and Reflexite. Reflective inks have lower reflectivity (50-600 feet). Be cautious when using blinking lights -- check if batteries are functioning and keep set at the slowest setting (quickly flashing lights can trigger seizures).
2. Avoiding heatstroke:
Limiting and supervising time outdoors during the hottest hours of the day is also important for your pets because when it's hot for you, it's probably even hotter for them. Dogs aren't as efficient at cooling down as we are, since they release most of their body heat only through the pads of their feet and by panting. Be especially careful with dogs and cats that have short, pushed-in faces (e.g., bulldogs, Himalayan cats, Pugs, Boston terriers), puppies and elderly pets. Early-morning and evening hours are best for outdoor playtime, and be sure to provide plenty of water and even ice cubes.
Cars can heat up quickly, even with the windows partially open. Take your pets with you, or make sure there is adequate ventilation. As an additional precaution, soak a bandanna in water and let it cool in the refrigerator. Place it around your dog's neck.
Some signs of heatstroke include excessive panting, bright-red tongue and gums, vomiting, diarrhea, lethargy, and body temperature of 104-110F degrees. If you suspect your pet may be suffering from heatstroke, contact your veterinarian immediately.
3. Keep pets away from dangerous food and drinks:
Vedante founder, Barbara Kantor states, "I once brought a chocolate rum cake to a party. While doing dishes, the family dog found and devoured the entire cake. The dog was rushed to emergency for ingesting alcohol and chocolate." Pay attention to the food and drink that your pet can reach! Food enjoyed by your human friends should not be a treat for your pet; any change of diet, even for one meal, may give your dog or cat severe digestive ailments. Avoid raisins, grapes, onions, chocolate and products with the sweetener xylitol."
4. Make sure your animals are wearing ID tags:
Your reflective collar should have an ID tag with contact information. Outdoor pets may become disoriented because of fireworks and loud celebrations. If possible leave pets inside during loud celebrations.
5. Keep chemicals and medicines away from animals:
If you use fertilizers or other chemicals on your lawn or garden, make sure your pet doesn't have access to these potentially toxic substances. Car antifreeze is also potentially life-threatening to pets and may leak from an overheating car. Keep your pet away from what to them is a sweet-tasting, but possibly toxic substance such as this. Wipe away chemicals and salt from fur and paws after a walk. If you suspect your pet has ingested poison, contact the ASPCA Animal Poison Control Center - 888-426-4435.
House guests may unknowingly introduce unsafe conditions if their medicines and toiletries become accessible to pets.
6. Arrange for qualified pet sitting if leaving town for vacation:
Even though some animals do well for a few days, it's important to have someone check in on your pet. Vedante suggests asking your friend or pet sitter to contact you with daily updates. If you can't find a neighbor or friend, look into kennels or bring your animal to a pet-friendly hotel with you.
7. Make sure young children are supervised when with an animal:
Young children may not understand the consequences of their actions when playing with a pet. If your animal is exposed to children, make sure both are safe by paying close attention during interactions (or place pet in another room).
8. Hot Asphalt and Feet Protection:
Encourage your pet to stay on the sidewalk or grass. In summer, asphalt can burn your pet's paws.
9. Periodically test screens:
Keep all un-screened windows or doors in your home closed and make sure adjustable screens are tightly secured. During warmer months, the ASPCA sees an increase in injured animals as a result of High-Rise Syndrome, which occurs when pets (mostly cats) fall out of windows or doors and are seriously or fatally injured.
10. Water, water and ... more water:
Both you and your pet need access to lots of fresh water during the summer whether you're indoors or out. Check your dog or cat's water bowl several times a day to be sure it's full.
About Vedante:
Vedante is a company committed to saving lives by increasing nighttime visibility and decreasing accidents through education, awareness campaigns, and "fashion that reflects well on you."
Barbara Kantor, CEO of Vedante, has developed her line of reflective products with both safety and fashion in mind. "We have a real opportunity to increase nighttime safety for both people and pets," said Kantor. "Vedante's mission is to promote nighttime visibility through highly reflective and durable products that are also fashionable and elegant."
Vedante has consistently ranked among the top 10 best sellers in the United States at Amazon.com in its respective categories for super-reflective POP BANDS (for people) and super-reflective pet Collars\Leashes.
Vedante's Super Reflective products can be purchased online at Vedante's e-commerce website, Amazon.com in the USA, Amazon UK and select retailers (http://vedante.com/shop.html). To locate a local retailer visit http://www.vedante.com.
For safety tips, deal alerts and fun stories:
Facebook: http://www.facebook.com/Vedante
Vedante Pet Products on Facebook: http://www.facebook.com/Vedante.Pet
Twitter: http://twitter.com/VedanteFDN
####