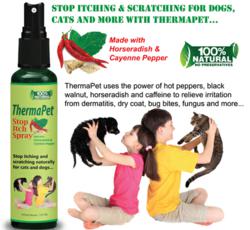 Capsaicin, the active component of hot peppers is proven to stop itching for humans, and it does the same thing for dogs and cats.
Scotia, NY (PRWEB) April 28, 2013
Greensations has launched the worlds' first hot pepper anti-itch spray for dogs and cats under their new ThermaPet brand. Hot pepper anti-itch spray is nothing new for Greensations, a company that built several successful OTC brands for humans. Their most popular products, ThermaSkin and ThermaScalp are sold in thousands of stores, but ThermaPet is a whole new animal for GSC Products, parent company of Greensations.
ThermaPet Stop Itch Spray is designed specifically for pets with long and short fur. Unlike other anti-itch pet products, ThermaPet does not use steroids, chemicals or preservatives that can damage skin in cats and dogs. According to the manufacturer, their product works faster and lasts longer than mainstream brands.
"Over the years, hundreds of customers have said our pepper itch sprays worked for their pets. So we decided to take it a step further and create an anti-itch spray specifically for dogs and cats. ThermaPet stops itching in less than 2 minutes for most pets and it promotes healing," says Wayne Perry, CEO of GSC Products, LLC.
In a one month open label study using 40 volunteers including 26 dogs and 14 cats, ThermaPet stopped itching and scratching by 95 percent based on customer surveys provided by the pet owners. No adverse reactions were recorded and 80% got noticeable relief after the first application, according to pet owners.
"We offered free product to the first forty customers with either a cat or dog who previously commented on using our anti-itch products on their pets. Within 48 hours, we had all forty participants in place. Every pet owner filled out a survey after each week of use and the results were amazing. In the first week, eight out of ten pets completely stopped itching. Over the next three weeks, 38 of the forty pets were essentially cured according to their owners," adds Perry.
Along with Capsaicin, the active component of hot peppers, ThermaPet uses horseradish to reduce inflammation and Black Walnut to fight fungal infections. In addition, this proprietary formulation contains other botanicals to boost immunity and reduce allergic reactions including: Goldenseal, Nettle, Jewel Weed, Vitamin C and Sea Salt.
ThermaPet is available online and in stores with an MSRP of $13.99. Samples are available for media and Veterinarian medical professionals upon request. Contact GSC Products directly for media inquiries, wholesale inquiries and customer service questions.
About GSC Products and Greensations: Greensations natural health and beauty brands have been featured by Dr. Oz, The Doctors, Good Housekeeping, New York Times and more. Greensations features natural remedies for acne, anti-aging, beauty and skin care at Greensations.com.