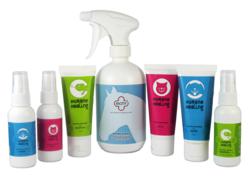 Humane Healing increases the recovery rates for pet wounds - naturally and humanely.
Nashville, TN (PRWEB) November 06, 2012
Humane Healing announced its pet wound-healing ointment and spray products for dogs, cats, exotics and horses will now be available at pet retailers. Until recently, Humane Healing was sold exclusively in the veterinary channel as QuickDerm, which is a nationally-recognized and vet-recommended brand.
Sam Savage, CEO of Humane Healing, says, "We want every pet parent to have the ability to use medical grade animal wound care products directly in their home."
Humane Healing uses organic salts and minerals that make the product non-caustic, non-steroidal and antibiotic-free. The company endorses this innovative science using the organic salt technology to improve the pet wound repair time. According to a scientific report released by Savage, Humane Healing's products contain ions like Potassium, Rubidium, Calcium and Zinc, which are imperative for the regrowth of cells to heal cat, dog and horse wounds.
"Humane Healing is focused on bringing scientifically proven pet wellness products to market that further the humane treatment of animals," says Savage. "Everyone who tries our products quickly learns why veterinarians and pet parents around the country are in love with Humane Healing,"
Additionally, Dr. Kirk Shumpert, Chief Veterinarian of Tupelo/Lee County Animal Shelter endorses Humane Healing because of its once-a-day and non-caustic formula. Now, pet parents can purchase Humane Healing at pet retailers or on the web at http://www.humanehealing.com.
Humane Healing can be used for a variety of pet wounds including open abscesses, road rash, foot pad injuries, burns, incisions, and dermatitis.
For more information, contact Sam Savage at sam(at)humanehealing(dot)com
About Humane Healing
Humane Healing's mission is to humanely enhance the lives of pets and the enjoyment of their owners through proven science. Guided by the philosophy that pet-companions deserve to be happy and healthy, Humane Healing dedicates itself to the development of breakthrough technologies in innovative wellness products.