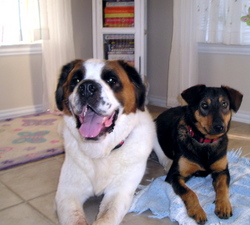 Have a Heart for Homeless Animals.
Houston, TX (PRWEB) February 14, 2008
Houston area rescue groups are asking all Houstonians to "Have a Heart for Homeless Animals" Thursday, February 14 through Monday, February 18. Five shelters will be offering half price or 2-for-1 pet adoptions to approved adopters. Adoption policies and costs vary by shelter and specific shelter promotions can be found at each web site. (Participating shelters below.)
Asked why residents should adopt, Millicent Gerdes, the volunteer manager of the Highland Village Animal Adoption Center said, "Adopting a homeless animal is the right thing to do. There is an overpopulation of loveable, friendly dogs who desperately need homes." Dogs in the program have only 90 days to pull on your heartstrings and to be adopted. If they are not adopted, they are euthanized, no matter how adorable or cute they are.
The Highland Village Adoption Center is in the old Gap store location (4010 Westheimer Rd., Houston, TX 77027). It will only be available for animal adoptions for the next two weekends. There is plenty of parking and it is a family friendly environment. There are opportunities for learning about different dog breeds as well as volunteering, fostering and donating. With two weeks left, Gerdes said, "We are hoping that someone will come forward -- with a store front or building that is maybe pending a renovation -- that could be our next temporary adoption center."
Other groups are also getting desperate and need help. Saint Bernard Rescue of Texas, located in Magnolia, takes in the gentle giants who have been surrendered, injured or unwanted. "We need foster homes to keep the Saints safe while we are trying to find their adoptive family. We need volunteers to help with fundraising, we need corporate sponsors and even dog food. Our General Medical Fund is depleted. Big dogs take big funds to rehabilitate," said Christine Banky, Director. She continued, "Please adopt a rescued dog -- the situation in the Houston area, with so many dogs having to be euthanized, is outrageous. Rescue groups alone cannot fix this problem. Please spay or neuter your pets, treat them humanely and help an animal rescue group wherever and whenever you can."
Operation Save a Lab has had to resort to sending dogs out of state. "There is an overabundance of labs in our area. The lab rescue groups are being overwhelmed -- instead of letting so many great family dogs be killed in Texas shelters, we are sending them to states on the east coast," said Laura McConnell, President. This group, headquartered in The Woodlands, needs fosters, donations and of course, people to adopt their labs.
Together all private and public rescue organizations are hoping that everyone who can, comes out this weekend to either adopt or foster, offer to volunteer or makes a generous donatation to help the homeless animals in the greater Houston area ... let's all "Have a Heart for Homeless Animals."
The five "Have a Heart" shelters honoring the 2-for-1 adoptions include: *The Houston SPCA at 900 Portway Drive, Houston, TX 77024, 713-869-7722; *Citizens for Animal Protection at 11925 Katy Freeway, Houston, TX, 281-497-0591; *HCPHES Veterinary Public Health at 612 Canino, Houston, TX 77076, 281-999-3191; *the Houston Humane Society at 14700 Almeda Road, Houston, TX 77053, 713-433-6421; *and the Houston Department of Health and Human Services - Bureau of Animal Regulation and Care (BARC) at 3200 Carr, Houston, TX 77026, 713-238-9600. http://www.houstontx.gov/health/index.html or http://www.friendsofbarc.org
Saint Bernard Rescue of Texas: http://www.saintrescue.org/texas.htm | 281-259-6267
Operation Save a Lab: http://www.thewoodlandsdogparkclub.org/
###