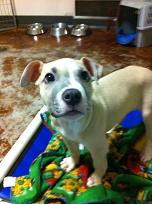 San Francisco, CA (PRWEB) November 09, 2011
James, an 8-week-old puppy, was stolen from the San Francisco SPCA's Adoption Center at approximately 3:45 pm on Tuesday, November 8. The Adoption Center's staff members are very concerned for James' well-being and are eager to have him back at the SF SPCA.
Case #110-902-526 was filed with the San Francisco Police Department, and the Mission District Station is handling the investigation. The SF SPCA has video footage of the alleged criminals, who can be described as a Latino couple in their mid-30s who were accompanied by a child. The man is approximately 5' 7", heavy-set, with spiky black hair and a short beard. The woman was approximately 5' 6", thin, with dark hair. They were accompanied by a 4-6 year-old boy with dark hair. The group was driving an older white sedan, possibly a Honda Accord or Toyota Camry.
James is a light brown and white mixed breed puppy. He was scheduled to go home with his new adoptive family the evening of the day he was stolen. He has been neutered and his microchip number is 982000167765783.
The SF SPCA is offering a $500 reward for James' safe return. We have photos of the abduction. We urge anyone with information to call the SF SPCA at (646) 496-5925.
About the San Francisco SPCA
The San Francisco SPCA is a community-supported, non-profit animal welfare organization dedicated to saving, protecting and providing immediate care for cats and dogs who are homeless, ill or in need of an advocate. The SF SPCA also works long-term to educate the community, reduce the number of unwanted kittens and puppies through spaying and neutering, and improve the quality of life for animals and their human companions.
Support the San Francisco SPCA by adopting, donating, volunteering and becoming a client of the state-of-the-art SF SPCA Veterinary Hospital at the Leanne B. Roberts Animal Care Center. SF SPCA has San Francisco volunteer opportunities to care for shelter dogs and cats, conduct adoption counseling, assist clients and veterinary staff at the Leanne B. Roberts Animal Care Center, provide foster care, help with the Feral Cat Program, and enrich the lives of people in the community through animal-assisted therapy.
For more information about San Francisco pet adoption, call the San Francisco SPCA at (415) 912-1742 or visit sfspca.org.
# # #