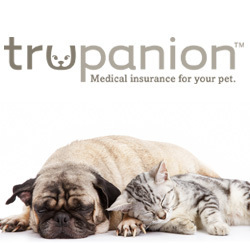 As we look back over this year, we really feel proud of the benefits we have provided to our policyholders
Seattle, WA (Vocus) September 7, 2010
September is National Pet Health Insurance Month and Trupanion, North America's fastest growing pet insurance company, is celebrating by taking a look at the most expensive and interesting pet health insurance claims in the past twelve months.
Most Expensive Claims
Rampage, a Cane Corso dog received treatment for bilateral shoulder osteochondritis dissecans (OCD), a condition in which the cartilage becomes detached from the bones at joint locations. The pet insurance claim amount was $4,860.01. Trupanion repaid $4,176.94.
Rufus the Pug needed treatment for esophageal stricture. This condition occurs when the esophagus narrows and the animal has difficulty swallowing. Symptoms may also include lack of appetite, weight loss, wheezing sounds, excessive drooling, regurgitation, and crying while trying to swallow. Pet insurance claim amount totaled $14,175.22. Trupanion repaid $12,533.31.
But Georgie takes the cake. Georgie, a young Labradoodle waged a battle with liver disease and jejunal intussusceptions. Treatment for these conditions included monitoring, medications, IV fluids, anesthesia and surgery. The total pet insurance claim amount equaled $17,404.15. After the deductible, exam fees, and 10% co-pay, Trupanion repaid $15,129.67.
Most Bizarre Claims
Princess, a Cocker Spaniel, had an unfortunate run-in with a rattlesnake. The poor girl was very disoriented, panting rapidly, and on the verge of paralysis when admitted to the veterinary hospital. She went into critical care and needed various fluids, medications, and blood work. The total pet insurance claim amount was $9,234.15. Trupanion paid $8,224.80.
Two similar claims came in the same week for the same policyholder. The family owns two Golden Retrievers that are over 7 years old. Both dogs tore their ACLs and needed surgery in the same week.
Clementine tore her left cranial cruciate ligament and Winston tore his right cranial cruciate ligament. The total amount for both claims equaled $8,319.92. Trupanion repaid $7,280.92.
Sniper, a Miniature Schnauzer, found his way to some chicken bones and got pieces stuck in his esophagus, requiring emergency surgery. The total pet insurance claim amount was $6,825.16. Trupanion paid $5,558.54.
"As we look back over this year, we really feel proud of the benefits we have provided to our policyholders," said Darryl Rawlings, Chief Executive Officer at Trupanion. "For every one of the expensive or bizarre claims we receive, we pay out hundreds of claims for everyday accidents and illnesses we all know can occur. It's a good feeling to know that we have helped so many pets."
National Pet Health Insurance Month has also inspired The North American Pet Health Insurance Association, of which Trupanion is a founding member, to host a contest for North America's Favorite Pet Insurance Story. During the month of September, pet owners are encouraged to send in stories and photographs that represent their pet insurance experience. The winner will take home $1,000, and a $500 donation will be made in the name of their dog or cat to their favorite local shelter or rescue group. The runner up will receive Apple iPads.
To participate in this contest, submit your story on NAPHIA's website, http://www.naphia.org.
About Trupanion™
Trupanion™ pet insurance offers cat insurance and dog insurance in the United States and Canada. Trupanion™ is self-underwritten by the American Pet Insurance Company, allowing Trupanion™ to offer a simple, customizable pet insurance policy with no payout limits and 90% coverage of veterinary bills. Enrolled pets receive lifetime coverage for diagnostic tests, surgeries, and medications if they get sick or are injured, with no incident, annual or lifetime limit. Trupanion's mission is to deliver fast, simple and user-friendly financial support to pet owners. For more information about Trupanion™, call 800-569-7913 or visit http://www.TrupanionPetInsurance.com.
About the North American Pet Health Insurance Association
Trupanion™ is a founding member of the North American Pet Health Insurance Association (NAPHIA). Founded in 2007, the North American Pet Health Insurance Association is committed to educating and promoting the values and benefits of quality pet health insurance to North American pet owners, the general public, and the veterinary community. As an association, we are committed to high standards and transparency in all of our actions and products. To learn more, visit the North American Pet Health Insurance Association website at http://www.naphia.org.
###