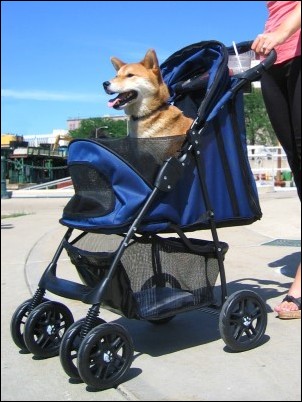 As pet strollers have increased in popularity, the number of lower-quality, look-alike brands has grown as well.
Milwaukee, WI (PRWEB) February 27, 2007
The Pet Stroller Buying Guide, a thorough source for dog and cat companions seeking to make the right choice in a pet stroller, is now available on the Internet.
"Just a couple years ago, pet lovers had a choice of only two brands in pet strollers," says Geralee Ray of JustPetStrollers.com. "But in the last 18 months the number of pet stroller options has multiplied, making it difficult for dog and cat companions to choose the one that best suits their pet."
To help dog and cat owners assess the unique needs of their pets and understand the different characteristics of the many pet strollers available, a helpful Pet Stroller Buying Guide has been made available online at http://JustPetStrollers.com/buying-guide/.
"We have sold over 6,000 pet strollers in the past three years, and we want to make our knowledge and experience available for all dog and cat lovers," notes August Ray. "Perhaps the most common mistake is when purchasers focus only on the weight limit of a cat or dog stroller. This can often result in the selection of a stroller that is too small for the pet. To avoid this problem, it's very important to pay attention to the length, height, and width of the pet stroller."
The Pet Stroller Buying Guide provides useful tips and information to cat and dog lovers who are thinking of purchasing a pet stroller. Considerations include the terrain over which the stroller will be used, whether the cat or dog will prefer a stroller with a privacy parlor, and how the human and pet will use the stroller.
"For example," offers Geralee Ray, "a pet lover should select a very different pet stroller for traveling than for jogging." A travel pet stroller will be smaller, feature a detachable carrier, and collapse flat for easy storage and transport, while a jogging pet stroller will be larger, have three wheels for improved stability, and feature large, air-filled tires for safety and comfort.
"We also urge pet lovers to look for name brands they trust," adds August Ray. "As pet strollers have increased in popularity, the number of lower-quality, look-alike brands has grown as well." JustPetStrollers.com has evaluated and rejected dozens of new cat and dog stroller models over the past two years, and Mr. Ray says, "We will only offer pet strollers in which we trust our own pets!"
For those concerned about helping their pet adjust to a new dog stroller or cat stroller, the Pet Stroller Buying Guide also offers several helpful ideas.
For more information about Pet Strollers, visit the Pet Stroller Buying Guide at http://JustPetStrollers.com/buying-guide/.
About JustPetStrollers.com:
JustPetStrollers.com is the Internet's first Web site dedicated to the pet stroller, a product that continues to grow in popularity. The Internet retailer offers five-star customer service and has been rated by its customers into the top 3% of all Yahoo Stores. With secure online ordering, toll-free service, and information to help consumers make the right pet stroller selection, JustPetStrollers.com seeks to maintain its position as the premier U.S retailer of pet strollers. JustPetStrollers.com is operated by Metropawlis, a family-owned business in Milwaukee, WI. For more information, visit http://www.JustPetStrollers.com.
For more information or to schedule an interview with Geralee or August Ray, please contact August Ray at 414.273.7387. Both are prepared to discuss the appropriate uses for a pet stroller and how pet lovers can select the best stroller for their pet's needs.
###