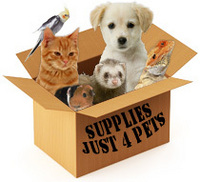 When I would browse for pet supplies online I would find myself having to go to multiple web sites to find what I was looking for
La Verne, CA (PRWEB) February 28, 2009
Supplies Just for Pets launches their online pet supply store with a wide variety of unique and common pet supplies for cats, dogs, birds, small animals, reptiles and fish all in one place. Operated by pet lovers, our mission is to help owners provide the very best to their pets.
A pet lover all her life, Salina who owns Supplies Just for Pets wanted to bring together a large selection of pet products not normally found in a traditional pet store. "When I would browse for pet supplies online I would find myself having to go to multiple web sites to find what I was looking for", says Salina. "I have found some really great wholesalers to help me offer a wide variety to pet owners".
Salina's friends have always been surprised about her knowledge of pets. In an effort to share things she has learned over the years she started the pet supplies blog. This blog displays helpful pet tips and information on pet supplies. "I definitely look forward to sharing what I have learned about pets".
SuppliesJust4Pets.com offers tiered coupons, where customers get to choose their reward depending on how much they spend. Returning customers receive tiered percentage discounts on purchases. They also offer regular sales on various pet products. "We also offer buy together specials where you get a discount for purchasing 2 related products for your pet", explains Salina.
Salina continues to build the business and improve the variety of pet products available. "Our largest two categories are cat supplies and dog supplies but customers definitely have more to look forward to in all categories". Salina looks forward to providing great and unique pet supplies for the pets you love.
###